Sammy: The Best Little Friend Anyone Ever Had
1986-? -- June 29, 2006
By Dina-Marie Kulzer
Photos by Carl Kulzer

When I remember Sammy it is like remembering three different cats. There was the rambunctious young creature in 1990 who decided he wanted to live with us, the middle aged party guy and the distinguished curmudgeon. One thing remained constant, he was the most loving little companion there ever was.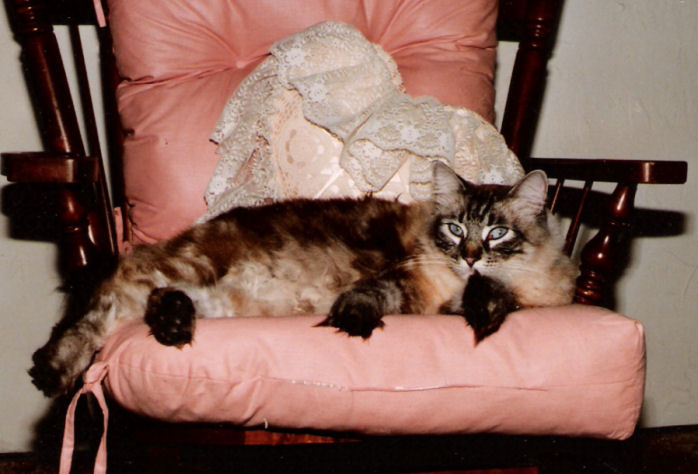 One of Sammy's first visits to the Kulzers - 1990
When we first met Sammy he was living in a mansion up the street with a couple of very well-to-do gentlemen. He would escape through a window and run down the street over to the upper half of the duplex where we live. By the time we would walk home from returning him he'd be waiting for us on our porch. I still haven't figured that one out. How did he get out and to our upstairs half of the duplex without us seeing him? Some secret cat short-cut I suspect.
At the time, we were taking care of a feral cat who would get jealous when she saw Sammy so we would dutifully take him back to the mansion. The owners told me he was quite a roamer who before he was neutered was found miles away looking for fresh female companionship. Neutering did not stop the roaming, he was always looking for the best deal possible. The size of the house, wealth of the owners and the decor meant nothing. He wanted love, a great deal of attention and the best meals he could get as often as possible. Sammy stole the heart of several neighbors that I know of on our street. He was a big boy in those days weighing about 18 lbs. I regret not allowing him to live with us then. However because of our feral kitty who lived on the porch and my husband Carl once being told his asthma was from an allergy to cats, we did not keep him. I could have had five more years with my precious boy.
Photo of Sammy - Courtesy of my good friend and his "first mother" (well first human mother anyway)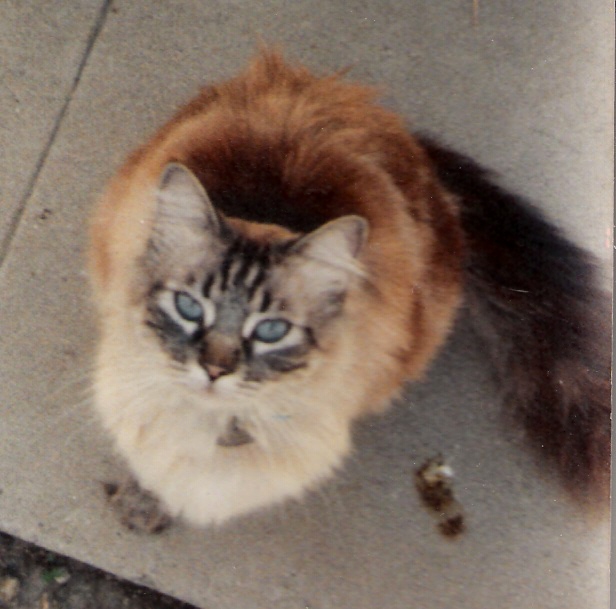 After the gentlemen who lived in the mansion came new owners including a college student in a studio apartment. Then there was a young married couple who had big hearts and took care of many cats on our street. Sammy would visit us every Christmas and Fourth of July to escape the loud festivities. He still wanted to live with us and was determined to do so. Finally in 1995 we could resist him no longer and he came to live with us for good. His roaming days were put to a stop as I believe his first owners had de-clawed him and he was crossing the street constantly. It was not safe. With few objections, he became a house cat. And following shots, my husband's allergy did not re-surface.
Sammy the Stow-Away - Inside a suitcase before a trip - "You're not leaving without me"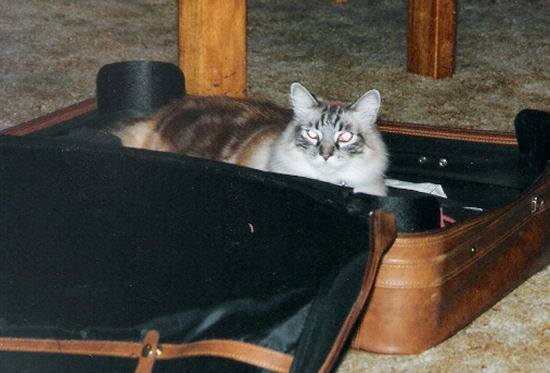 I believe in a previous life Sammy must have been a handy-man. He LOVED power tools, electric toothbrushes, drills, shredders and vacuums. The sounds didn't scare him a bit. He was fascinated by them. Our landlord Bob loved Sammy too. He used to come over and Sammy would follow him around inspecting his work and watch everything he did with great interest. This was fun but could be disconcerting to Bob who was trying to work. He would say "Sam, do me a favor and watch that hammer." And I swear to you that cat would fixate on the tools for the longest time watching everyone who walked by with just a little suspicion. We had a plumber come once who asked me "Is that a cat?" I said "Why, yes of course." And he said "Why doesn't he blink? He keeps staring at me." Given Sammy's size at the time, I guess the plumber thought he was a little bob-cat cub or something......I really don't know!
Sammy at Christmas
By this time, he was a middle aged party guy. At his previous multi-cat home I was told he was annoyed by the constant attentions of a kitten and he believed, rightly-so, that he was the center of the universe and should be an "only cat". Our wild cat Kitty and he struck up a friendship and tentative romance. A human was not allowed to touch her but she would allow Sammy (ever the Don-Juan) to drag her in the house by the scruff of the neck. I never saw that tempestuous little creature so docile. Sammy, not realizing he was neutered, would try to have his way with her. He also tried several times to give her a much-needed bath. Kitty had been spayed but didn't seem to realize her limitations either. After awhile when nothing would happen, she would get annoyed and give him a slap, an angry meow and stalk off. Sammy, unconcerned, had the attitude of "well maybe next time" and just went back to napping.
Sammy was a lot of fun at a party and a great entertainer. One time he showed me extraordinary affection in front of our company prompting one guest to say "My God that cat really loves her." I think it was for the audience's benefit more than mine! He was a natural born showman and knew instinctively how to be the center of attention.
Once we had a huge dish of buttered popcorn on the coffee table and Sammy just jumped up put his face in the bowl and started eating the popcorn as though it were his dry kibble. I heard my guests muttering "I don't think I'll have any more popcorn.......thank you." My father who is a dog person and not really that fond of cats came over and the first thing he said when he saw Sammy was "Is that a cat or the MGM lion?" Sammy responded to the comment by jumping into his hors d'oeuvre dish and then sampling the cheese from the cheese and crackers..
Sammy inside the Christmas Tree Box (he loved decorating time at Christmas)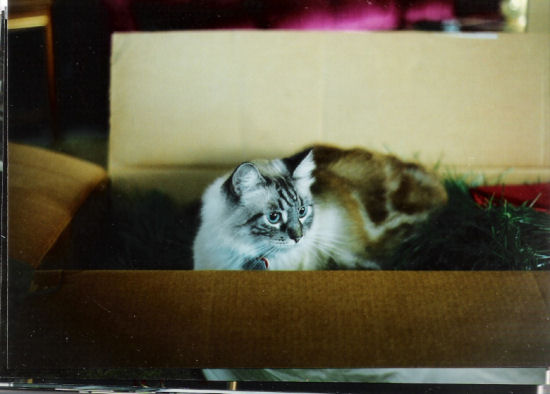 Sammy - The Centerpiece (Not a staged photo...he really thought he belonged in the bowl!)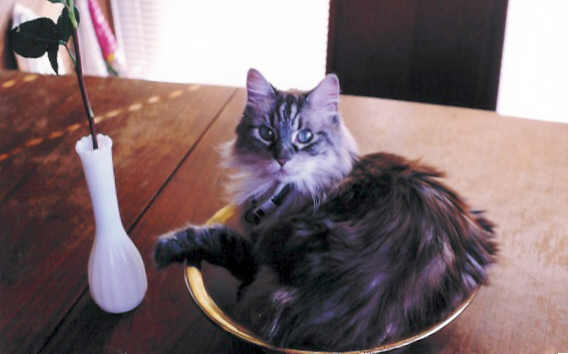 More than once I walked back in the living room from another part of the house and found him on the coffee end table trying to sip my Chardonnay. A cat with distinctive tastes, he would go after my Chardonnay but stay away from my husband's red wine. Another time we had a birthday dinner for my husband's cousin Carole. We were sitting at the dining room table and Sammy jumped on the empty chair and then up on the table and completely stretched out laying in the middle of it while we were having dinner. Fortunately, Carole is a great cat lover and did not mind the unusual furry centerpiece. I found out that in my absence my husband would share meals with Sammy on the table. I wouldn't have minded. Sammy was a very social creature and up until the end always wanted to dine with us. Whenever we would eat he would want to eat at the same time and sit next to us. I recall one time I had left over filet mignon which I had saved for Sammy. My husband asked what was for lunch and I gave him a left over taco from a Mexican restaurant and starting cutting the filet for Sammy (who was on the table as usual waiting). Carl said "Why does he get filet and I have to eat this old taco?" Well...what can I say, I was very indulgent. Sammy ate the filet with no remorse.
Sammy struggled with many illnesses over the years. He was diagnosed with hyperthyroidism in 2002 and I was told he had maybe two more years to live. He lived four more years. For a long time all he had was the hyperthyroidism which required two pills and day and then four. The veterinarians then told me he was no longer responding to the medication. Remember the young married couple I mentioned previously who were once Sammy's owners? I used to communicate with the husband and did not really know the wife. It turned out later that after she moved away and returned to Long Beach, we became very good friends. She was Sammy's "first mother" and after awhile she realized that I was the woman who kept returning Sammy to them 15 years ago. She said she was thinking "Is she talking about the same Sammy? Is that the same woman?" She has shared his loss with me and has offered great support and sympathy. What a strange coincidence and what a small world it is. We had both owned Sammy and didn't realize it. My mother has been a tremendous source of support and sympathy these past few days. Our family has a deep attachment and love for our pets.
It takes up to four years for a Ragdoll breed of cat to reach maturity and Sammy was no kitten in 1990 when I first saw him. He was fully grown and then some! I believe Sammy was at least 20 years old, perhaps older.. This year came seizures and the diagnosis of a possible brain tumor or epilepsy. We added two Phenobarbitals. Then came inflammatory bowel disease, anemia and an infectious but not cancerous tumor on his leg. With that came more medication. When he was hyperthyroid he was 11 lbs. Then Sammy was 8 lbs. with the new illnesses. We were at the animal hospital every few weeks for blood tests. He was still eating but began missing the litter box in the last couple of weeks. One day he stopped urinating and being able to fully go to the bathroom. He could hardly stand up and had trouble walking. In fact, I thought he couldn't walk. However, on that last morning, he actually walked to the litter box but couldn't do anything. He managed to eat dinner on his last night.
Our once 17 lb. cat was a shocking 6 lbs. The veterinarian told me he was starving to death even though we were feeding him. He was not assimilating the nutrients.We made the very difficult decision to put him to sleep. You spend all this time trying to heal your pet or at least maintain an acceptable comfort level and then you realize that his quality of life has eroded away until it is non-existent. As I held Sammy in the car on that final ride, he rested his little head against my chest. There were none of the usual protests of going to the vet. Sammy was my husband's best little friend, companion and co-conspirator and he was my baby.....a part of me. Having never had children, he was my little love. Before they gave him the injection I told him I'd miss him every day of my life. He went quickly... not in minutes but in seconds. The ache of missing him is deep and our home so very empty. I hope somehow we will be reunited with him. God bless you Sammy...I hope your little soul enjoys its roaming. When you get tired, try to find your way back to us somehow. We miss you so much.
The world is a much sadder place without our little friend.
Copyright © Dina-Marie Kulzer 1983-2015. This article may not be reprinted without permission.
Falling In Love with a Wild Cat - (Kitty's Story) - By Dina-Marie Kulzer - Published May 1991 in "I Love Cats" Magazine
Dina Di Mambro's Classic Hollywood Biographies
Classic Film Actress Vintage Movie Magazine Gallery - 1920s thru 1950s Covers
BOOK - TRUE HOLLYWOOD NOIR - Uncover true stories of Hollywood mysteries, scandals & murders in a dozen different chapters featuring William Desmond Taylor, Thomas Ince, Jean Harlow, Thelma Todd, Joan Bennett, Lana Turner, George Reeves, Gig Young, Bob Crane, Natalie Wood, Robert Blake, and Mickey Cohen. Included in the cast of characters of the Thomas Ince chapter are William Randolph Hearst, Marion Davies, and Charlie Chaplin. And in the Mickey Cohen chapter, find never before told stories about Ben "Bugsy" Siegel, Virginia Hill, and a host of notorious underworld figures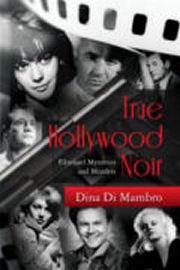 Buy True Hollywood Noir by Dina Di Mambro today!
A tantalizing mixture of classic Hollywood nostalgia and true crime, True Hollywood Noir: Filmland Mysteries and Murders , featuring 100 rare photographs, is suspenseful, entertaining, and eminently readable. While viewers were captivated by the drama playing out on the silver screen, the lives of the stars of these film noir classics were often far more exciting. The film plots of these stylish black and white masterpieces pale in comparison to what was going on behind the scenes. Uncover the true stories in a dozen different chapters featuring William Desmond Taylor, Thomas Ince, Jean Harlow, Thelma Todd, Joan Bennett, Lana Turner, George Reeves, Gig Young, Bob Crane, Natalie Wood, Robert Blake, and Mickey Cohen. Included in the cast of characters of the Thomas Ince chapter are William Randolph Hearst, Marion Davies, and Charlie Chaplin. And in the Mickey Cohen chapter, find never before told stories about Ben "Bugsy" Siegel, Virginia Hill, and a host of notorious underworld figures