PORTRAIT OF HARLOW: THE ORIGINAL BLONDE BOMBSHELL
By Dina Di Mambro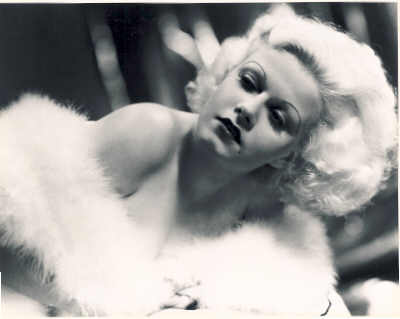 On film she often wore white satin gowns, which combined with her ivory skin and platinum hair, gave Jean Harlow an unparalleled luminous quality. Harlow glowed from the screen, reached out and grabbed the attention of the viewer and never lost it. She was not an unreachable goddess like Garbo, but human with an earthy sense of humor which made her a superb comedienne. As the original blonde bombshell, Harlow set the trend for actresses like Marilyn Monroe for decades to come.
Harlow was nicknamed "the baby" by her family and the name stuck with her. She was known as "the baby" around the studio. She claimed she didn't know her real name "Harlean" until she started school. Somehow the nickname suited her, with her cherubic baby face and kewpie doll lips painted a deep red, she played at being the femme fatale but with an underlying childlike quality and a roaring sense of humor which set her apart from her contemporaries.

No matter how tough the characters in her early films were supposed to have been, the audiences always loved her. Harlow would say about those characters: "I don't want to play hard-boiled girls. It's so different from the real me." In fact, Harlow, who was educated in upscale private schools, actually came from a fairly well-to-do family. Her grandfather did not support or approve of the idea of a movie career for his granddaughter.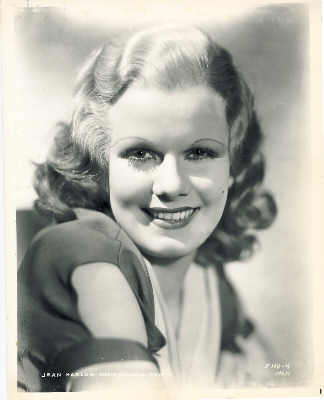 Harlow was born Harlean Carpenter in Kansas City, Missouri, 1911, to dentist Mont Clair Carpenter and Jean Harlow, whose name she would later take as a stage name. She was married at the age of 16 to wealthy 20 year old Charles McGrew and divorced at 17. As a young newlywed, Harlow began as an extra in films and graduated to bit parts, most memorably with Laurel & Hardy in the silent Double Whoopee, where her skirt gets caught in a car door and comes off causing something of a sensation. Grandfather Harlow threatened to disinherit her after seeing the film!

Wallace Beery & Jean Harlow in Dinner At Eight (1933)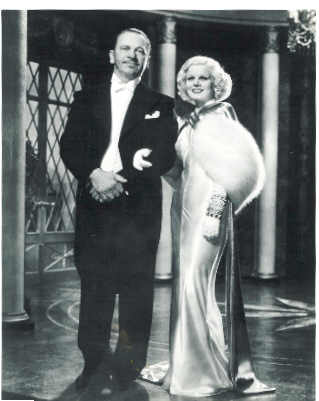 The advent of sound in films brought about Harlow's big break at the age of 18. Greta Nissen, the actress hired for Howard Hughes' Hells Angels, had a Swedish accent. When the film had to be re-formatted from silent to talkie, Nissen had to be replaced --enter Jean Harlow. Her confidence grew with each successive role until her comedic talent was noted by studio executives and finally utilized. No one could throw a hilarious huffing and puffing, dish throwing, on-screen tantrum like Harlow.

In the film Dinner at Eight (1933) Harlow gives one of her finest comedic performances. Who can forget the sight of her lying in bed in a gorgeous negligee stuffing chocolates into her face? Harlow also seems to zestfully delight in calling Wallace Beery "Ya old Windbag!" To say they weren't the best of friends off screen would be an understatement.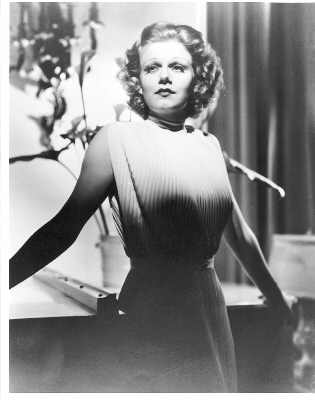 However, Harlow was loved by the crew members who worked on her films. They remembered her as being very kind, down-to-earth and a great dice player! In those pre-Las Vegas days, one of her favorite getaway spots was Agua Caliente, a high end Tijuana gambling resort which is still in existence. Harlow, with her heart of gold, was known to help out crew members who needed support financially.
Katharine Hepburn is credited with being a fashion trendsetter, wearing slacks in public at a time when most actresses would only wear skirts. Harlow also was fond of slacks. Almost all candid shots of her show her in sweaters, bell-bottoms and tennis shoes. And her friend, Marcella Rabwin, David O. Selznicks's assistant, recalled that Harlow "always had a book under her arm."

In Rosalind Russell's biography Life Is a Banquet she recalled Harlow: "I was close to Jean Harlow. I loved her, and oh she was a stunning creature! I remember sitting under a hair dryer in a beauty parlor one day, and sitting next to me was a child, also under a dryer. She was wearing shorts, and her little baby legs perfectly formed, rested against the back of her chair while the nails of her little baby hands were being manicured. My word, I thought, a ten or eleven year old kid having that bright red polish put on, and suddenly the hood of the dryer went back and the child stood up and it was Jean. She was probably twenty-three at the time but without make-up and no eyebrows, she looked exactly like a little kid."

Gable & Harlow in Saratoga (1937)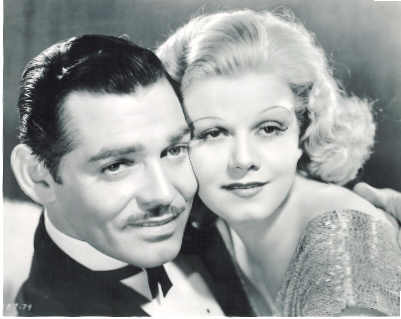 Harlow is probably most remembered for the films she made with Clark Gable such as Red Dust (1933), China Seas (1934) and Saratoga (1937). Gable & Harlow were a magnetic, exciting screen team. They sparked together and complimented each other in every way. Gable met his match with Harlow as his leading lady. They generated a sense of playfulness and fun in every film they made together. They represented the ideal relationship of pals as well as lovers. The two were pals off screen. Gable's wife Carole Lombard, who was unthreatened by their friendship, once commented that she loved Jean Harlow because Gable thought of her "as one of the guys."

Much has been written of Harlow's private life. Her stepfather Marino Bello was a glorified con man who embezzled from her and among other things invested 25% of her salary in non-existent Mexican gold mines (this was discovered by William Powell when he had Bello investigated) and her mother was something of an eccentric who controlled every movement her daughter made, and it's said, sabotaged her relationships with her husbands. Mama Jean would never surrender control of her daughter to anyone.
Cary Grant & Jean Harlow in the title role of Suzy in 1936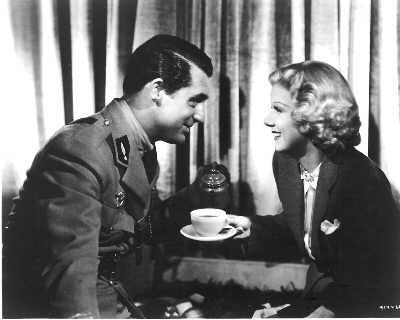 Harlow's second marriage ended with the suicide of her husband MGM studio executive Paul Bern. The death of Paul Bern remains one of Hollywood's great unsolved mysteries. On Labor Day weekend 1932, Harlow left her home with Paul Bern to spend the night at her mother's house. Bern was reportedly to join her there later but never showed up. The next morning Bern's body was discovered. It appeared he had shot himself in the head. He left a suicide note written on page 13 of his guest book which read "Dearest dear, Unfortunately this is the only way to make good the frightful wrong I have done you and wipe out my abject humiliation. I love you. Paul. You understand last night was only a comedy." Physicians later confirmed that Bern had a physical condition which made him "unfit for matrimony".
Unbeknownst to Harlow and the world, Bern had a mentally unbalanced common-law wife named Dorothy Milette. Witnesses say a woman answering the description of Milette visited Bern the night of his death. Milette was last seen boarding the "Delta Queen" in Sacramento. Days later her body was found in the Sacramento River. There was no money for a funeral so Harlow paid for her burial and even the grave marker reading "Dorothy Milette Bern". She also paid the $20,000.00 debt left by her husband. Harlow returned to work on Red Dust with Clark Gable just three days after her husband's suicide. Gable would later say "She was the bravest person I ever knew." Harlow would not speak of Bern's death again, either in public or reportedly in private, for the remainder of her life.
Studio heads were concerned that the Paul Bern suicide and resulting scandal would affect Harlow's career adversely. However, the scandal had no bearing on Harlow's popularity. Jean Harlow still was one of America's top ten stars, loved by men and women alike. Audiences loved the spontaneous quality she projected in the roles she portrayed.
Jean Harlow & William Powell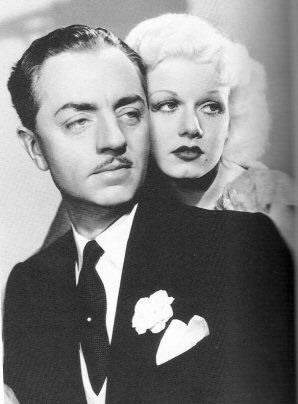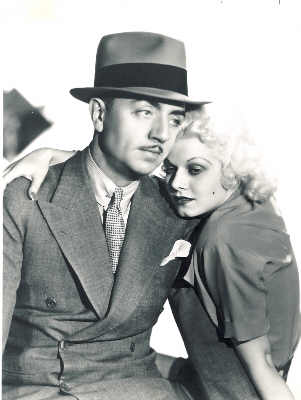 Following a short third marriage to cameraman Hal Rosson, Harlow finally found happiness with William Powell. She longed to play opposite him in the type of roles her friend Myrna Loy did. She did co-star with Powell in Reckless (1935) and with both Powell and Loy in one of the great screwball comedies Libeled Lady (1936). Powell gave Harlow a 150 carat sapphire ring but was not interested in marriage. The middle-aged Powell had been married and divorced from one young blonde actress Carole Lombard and was hesitant about marrying another.
Myrna Loy, Clark Gable & Jean Harlow in Wife Vs. Secretary (1936)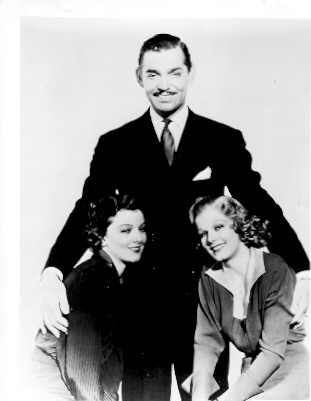 In her book Being and Becoming, Myrna Loy remembered a weekend trip she, William Powell and Jean Harlow took together. Powell & Loy were films' most famous on-screen married couple. A San Francisco hotel manager, confusing fantasy with reality, registered "William and Myrna Powell" in one room when it was actually Harlow and Powell who were to stay together. In the 1930s, with the press looking over their shoulders, they couldn't be obvious with their affair. Powell had to move to a tiny downstairs room while Myrna and Jean shared the more luxurious upstairs room. "Bill complained bitterly, let me tell you., angling to get upstairs," remembered Loy. "The mix-up brought me one of my most cherished friendships. You would have thought Jean and I were in boarding school we had so much fun. We'd stay up half the night talking and sipping gin, sometimes laughing, sometimes discussing more serious things. Jean was always cheerful, full of fun, but she also happened to be a sensitive woman with a great deal of self-respect. All that other stuff --that was put on. She just happened to be a good actress who created a lively characterization that exuded sex appeal."

In response to a sexually exploitative, sensationalistic book written in the 1960s about Harlow, Loy would say "It makes me wild when I think about the rubbish that is printed." Powell would only sadly say: "She wasn't like that at all.".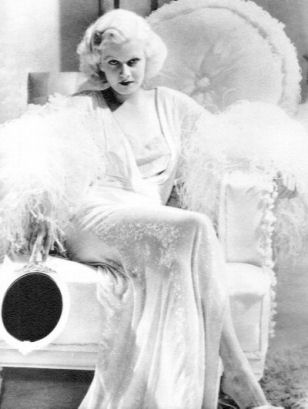 Harlow had been complaining of health problems for some time but apparently no one realized how serious it was. One theory, detailed in the book Bombshell: The Life and Death of Jean Harlow by David Stenn, of why Harlow ended up with kidney problems is that the illness developed from a case of scarlet fever she suffered at summer camp as a teenager.
Harlow gallantly worked through illness on the film Saratoga until she could no longer stand the pain. After briefly visiting William Powell on set of Double Wedding, to tell him she was going home and not feeling well. Harlow went home. Contrary to what has previously been written, Harlow's mother, a devout Christian Scientist, did hire nurses and grudgingly did allow doctors to examine her daughter at home, but was reluctant to give up control of the situation and have Harlow hospitalized. In the days before dialysis, antibiotics and kidney transplants, there was little anyone could have done for Jean Harlow. By the time they finally got her to Good Samaritan Hospital, kidney infection had spread through her body and there Jean Harlow died at the age of twenty-six on June 7, 1937. Jean Harlow's mother would die 21 years later, to the day, in the same hospital.
MGM writer Harry Ruskin recalled: "The day 'the baby' died there wasn't one sound in the commissary for three hours... not one goddamn sound."
Copyright © Dina Di Mambro 1983-2015. This article may not be reprinted without permission.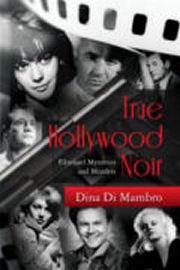 Buy True Hollywood Noir by Dina Di Mambro today!
A tantalizing mixture of classic Hollywood nostalgia and true crime, True Hollywood Noir: Filmland Mysteries and Murders , featuring 100 rare photographs, is suspenseful, entertaining, and eminently readable. While viewers were captivated by the drama playing out on the silver screen, the lives of the stars of these film noir classics were often far more exciting. The film plots of these stylish black and white masterpieces pale in comparison to what was going on behind the scenes. Uncover the true stories in a dozen different chapters featuring William Desmond Taylor, Thomas Ince, Jean Harlow, Thelma Todd, Joan Bennett, Lana Turner, George Reeves, Gig Young, Bob Crane, Natalie Wood, Robert Blake, and Mickey Cohen. Included in the cast of characters of the Thomas Ince chapter are William Randolph Hearst, Marion Davies, and Charlie Chaplin. And in the Mickey Cohen chapter, find never before told stories about Ben "Bugsy" Siegel, Virginia Hill, and a host of notorious underworld figures.

Jean Harlow Films on DVD
Jean Harlow Books & Movie Art
Dina Di Mambro's Classic Hollywood Biographies
Classic Film Actress - Vintage Movie Magazine Cover Gallery
Author Dina Di Mambro has written extensively about classic movie stars of the golden age of Hollywood from the time she was a teenager. Her book Television Series Regulars of the Fifties and Sixties In Interview (McFarland Publishing, written under the name Dina-Marie Kulzer) consists of 22 in-depth interviews with stars of classic TV series and was originally published in 1992. In addition, she has worked as a research consultant and provided materials for biography specials about Carole Lombard for the A & E Network and E! Entertainment Television.

Disclaimer
Some of the images on these pages may be copyrighted material. These images remain the property of their copyright owners and are not being used for profit of any kind. The images are here only for the appreciation, enjoyment and education of classic film fans and students. These images are for personal, nonprofit viewing, research and education purposes only. See "Fair Use" in the Copyright Act, U.S. Code Title 17, Section 107. If you own the copyright for any of the images on these pages and wish to be credited for them or have them removed, please contact

Any questions or comments? Please contact