JACKIE GLEASON: THE GREAT ONE
BY DINA DI MAMBRO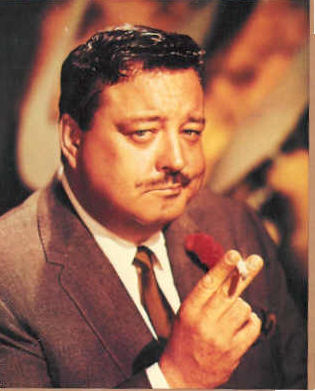 A wild Irishman with coal black hair, intense blue eyes and talent to match his size--that was Jackie Gleason. His first agent observed that his client was "hilarious and had a heart as big as a house". This rang true throughout his whole career.
Gleason's zest for life and generosity to friends and colleagues was legendary. He was known to pick up many a tab in his time, and according to his friends, had a heart of gold. However, his greatest gift to his many fans and friends was that of laughter. This is evident in a grand legacy of film and television programs, particularly The Honeymooners series which has timeless appeal.
The big, blustering character of Ralph Kramden was always bellowing about something, but the sentimental soft spot deep down always shined through, making him one of Gleason's most loved characters. His chemistry with Audrey Meadows, Art Carney and Joyce Randolph was brilliant and was one of the first examples of what is now referred to as "ensemble acting".
Ironically, Gleason never won an Emmy for the famous portrayal of Ralph Kramden. Art Carney and Audrey Meadows were the only cast members to win. Gleason had won a Tony Award for Broadway and been nominated for an Academy Award but never did win an Emmy. Many catch phrases from The Honeymooners are still fixed in viewers' vocabularies, such as the famous "One of these days, Alice. Pow! Right in the kisser!" and of course, Ralph's ever present threat to send Alice to the Moon.
Gleason patterned the Kramden's apartment after the one he lived in with his mother as a boy. The address is even the same, 328 Chauncey Street. "The place was dull. The bulbs weren't very bright. The surroundings were very bare" remembered Gleason about his childhood home.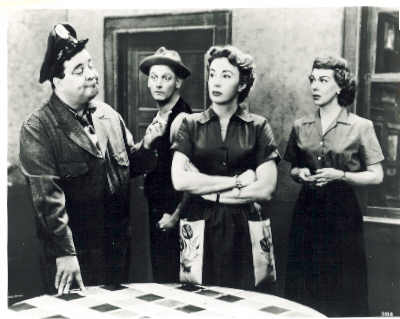 Gleason graciously gave 90% of the credit for The Honeymooners to Art Carney and explained Ralph Kramden by saying "The poor soul hasn't got a hell of a lot of ability. But he keeps trying. He gets schemes to make he and Alice happy. He fails. When he fails he feels a great deal of affection toward her and she knows why he did it. And he apologizes all the time. He's just an ordinary guy who is trying to make it and can't do it."
As is often the case with great comedians, Gleason's early life was tragic. He grew up in Brooklyn's Bushwick section, his older brother died when he was three and his father disappeared when he was nine. This devastated the young Jackie. Even as an adult, all he ever wanted was to see his father again. He once said: "I would always wonder whether the old man was somewhere out there in the audience, perhaps a few seats away. I guess I always kind of expected him to appear backstage suddenly, saying 'Hi, I'm your old man.' Then one day, I realized that wherever he was, it would be easy for him to contact me--if he really wanted to."
After his father left, Gleason remembers his mother kept him in the house all of the time. overprotective of her only son, all she had left.
"I could never go out on the street and play with the other kids. I used to watch them with my face pressed against the window. I think that's how I developed my 'poor soul' look. Hell, I didn't even start school until I was eight years old, two years older than the other kids in my class."
Jackie Gleason in The Hustler (1961)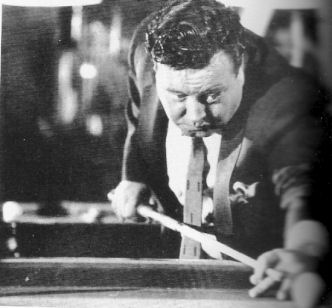 Gleason wasn't sheltered for long. By the age of 12 he was a pool hustler in the local hall where he was originally hired to rack up balls. The pool shooting experience was of great benefit to him in films such as The Sting II (1982) and his Oscar nominated role in The Hustler (1961) with Paul Newman, whose character says of Gleason's Minnesota Fats "He is great. Look at the way that fat man moves, like a dancer". Most actors had stunt doubles for pool playing shots. Needless to say, Gleason did not.
In a 1984 60 Minutes interview with Morley Safer, Gleason recalled the reason he went into show business. "I was in a grammar school graduation play and I got a laugh. That laugh was the greatest thing that happened to me. And if you can go out in front of an audience and do things that make them happy and make them laugh, there's no greater thrill. The instant critique of laughter and when you achieve it---it's wonderful."
Gleason's much adored, hard working mother died when he was 19 years old. With only 36 cents to his name, Gleason went to Manhattan and fame."I knew no fear. I was stupid, brash, arrogant and broke. As I rode the subway to Times Square Section. I kept thinking that my mother was buried on her 50th birthday, and it was the first time since I was a baby that I had not scraped up enough money to buy her a present."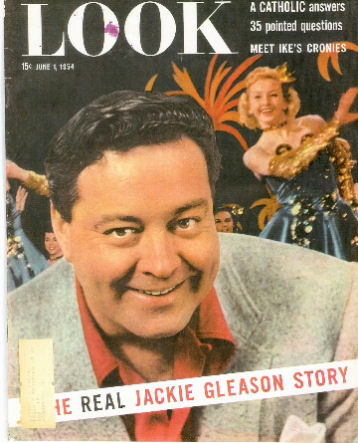 Jackie Gleason on the cover of Look Magazine 1954
It's said that Gleason's childhood deprivation led him to have a panic appetite for food, alcohol and attention. According to his friend and biographer James Bacon, Gleason known for his heavy drinking did not consider himself an alcoholic. Gleason himself always maintained that he never drank on show day. In addition to acting, Gleason, who was close friends with both Tommy and Jimmy Dorsey, conducted some popular albums in the 1950s which were at the time called "mood music". These were actually mellow, jazzy big band arrangements. The CDs of these albums are still available today. Amazingly, Gleason achieved this without being able to read a note of music.
Following the original 39 episodes of The Honeymooners, Gleason did not want to continue with an entire half hour of the show but wanted to do a variety show with sketches instead. In 1950s television, it was unheard of to have complete artistic and creative control; however, Gleason did have ultimate say regarding his work. He also had ownership of the programs, which with the exception of Lucille Ball and Desi Arnaz, was unprecedented for an actor. While making a film in California, CBS approached him regarding a contract for the variety show. He agreed on one condition---that a luxury train completed with two Dixieland bands transport his guests from California to Florida where Gleason wanted to do the show. "When you are 1, 2 or 3 in the ratings," said Gleason, "there is nothing that you little heart desires that the networks won't provide."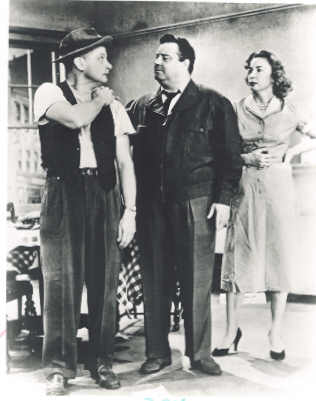 As Gleason himself said "the poor soul" came from his deprived childhood based on the child he once was with his nose pressed against the window watching other children play. All of his most famous characterizations were based on different aspects of his personality, Reginald Van Gleason, may have been the drinker and extravagant spender that Gleason was known to be at Toots Shorr's in New York and Ralph Kramden the hustler always trying to make the big time.
Sheila MacRae, the fourth Alice Kramden, after Pert Kelton, Audrey Meadows and Sue Anne Langdon remembered Gleason a sensitive man with a deep interest in psychic phenomenon. Gleason had been married twice, his first wife Genevieve gave birth to his two daughters. Gleason's grandson is actor Jason Patric.
The third time was the charm for Gleason when he married longtime love Marilyn Taylor, the younger sister of the choreographer of his variety show, June Taylor. In her book Hollywood Mother of the Year, MacRae recalled, "Jackie was married and so was she. He hadn't seen Marilyn in several years, but I was doing a special with him in 1972 and heard that Marilyn had lost her husband. 'Call her Jackie', I said. 'you two would be so good for one another. You still love her, don't you?' He refused. So I made the call. I'm delighted to report that my Cupid's act worked out fine. They married and were still together when Jackie died. I was thrilled to have had some small part in the happiness Jackie seemed to have found, finally."
Gleason has been remembered fondly not by just actors he had worked with but by those behind the camera as well. Former makeup man W. Bill Golding remembered that "Jackie was a hell of a guy. He was always very sweet to my little girl, Jackie, who we named after him. He used to give her chocolates and she adored him."
In the later years of Gleason's career he had resurgence in films with the Smokey and the Bandit films, The Toy (1982) with Richard Pryor and lastly the funny and poignant Nothing In Common (1986) with Tom Hanks. Jackie Gleason passed way in 1987 of cancer.
Cary Grant once said that Gleason was the most stylish man in show business. "Almost everything I wanted to do, I've been able to do, and most of it turned out pretty good. I've been lucky and everybody's been damn nice to me." Jackie Gleason passed away in 1987. How sweet his legacy is.
Copyright © Dina Di Mambro 1983-2015. This article may not be reprinted without permission.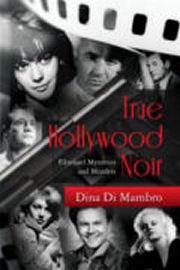 Buy True Hollywood Noir by Dina Di Mambro today!
A tantalizing mixture of classic Hollywood nostalgia and true crime, True Hollywood Noir: Filmland Mysteries and Murders , featuring 100 rare photographs, is suspenseful, entertaining, and eminently readable. While viewers were captivated by the drama playing out on the silver screen, the lives of the stars of these film noir classics were often far more exciting. The film plots of these stylish black and white masterpieces pale in comparison to what was going on behind the scenes. Uncover the true stories in a dozen different chapters featuring William Desmond Taylor, Thomas Ince, Jean Harlow, Thelma Todd, Joan Bennett, Lana Turner, George Reeves, Gig Young, Bob Crane, Natalie Wood, Robert Blake, and Mickey Cohen. Included in the cast of characters of the Thomas Ince chapter are William Randolph Hearst, Marion Davies, and Charlie Chaplin. And in the Mickey Cohen chapter, find never before told stories about Ben "Bugsy" Siegel, Virginia Hill, and a host of notorious underworld figures
Jackie Gleason Movie Art & Posters
Jackie Gleason Films & Television on DVD
Recommended Reading
Dina Di Mambro's Classic Hollywood Biographies
BOOK - TRUE HOLLYWOOD NOIR
- Uncover true stories of Hollywood mysteries, scandals & murders in a dozen different chapters featuring William Desmond Taylor, Thomas Ince, Jean Harlow, Thelma Todd, Joan Bennett, Lana Turner, George Reeves, Gig Young, Bob Crane, Natalie Wood, Robert Blake, and Mickey Cohen. Included in the cast of characters of the Thomas Ince chapter are William Randolph Hearst, Marion Davies, and Charlie Chaplin. And in the Mickey Cohen chapter, find never before told stories about Ben "Bugsy" Siegel, Virginia Hill, and a host of notorious underworld figures.