By Dina Di Mambro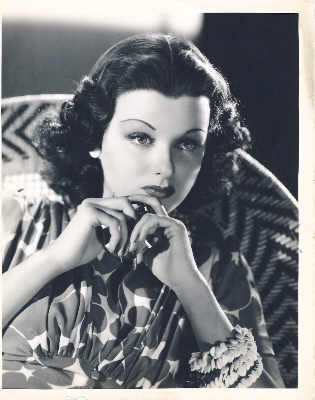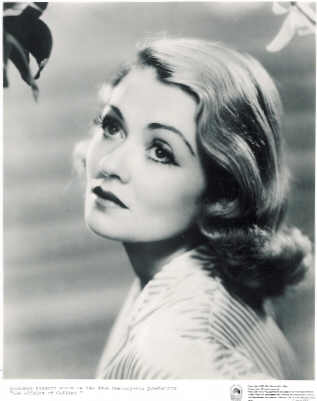 Joan Bennett and Constance Bennett
The beautiful Bennett sisters were jewels of Hollywood's golden age. Born of an aristocratic, regal theatrical background, Joan and Constance Bennett had that special touch of class that shines so uniquely on screen.
The daughters of stage matinee idol Richard Bennett and actress and literary agent Adrienne Morrison, were the fifth generation of actors on their mother's side of the family. The oldest sister Constance was born in 1904, middle sister Barbara, the least known of the three was born in 1906. Barbara Bennett, the mother of talk show host Morton Downey, Jr., had brief fame as a dancer and unfortunately led a basically unhappy life, never reaching the success of her sisters. The baby of the family Joan was born in 1910. Later Joan fondly recalled: "With all of Constance's juggling of dates over the years, I started out as the youngest, then became her twin and finally wound up as the oldest sister."
A blonde Joan Bennett in She Couldn't Take It (1935)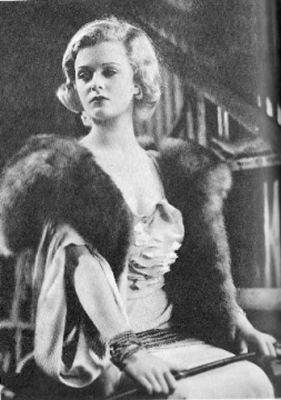 The Bennetts were every bit as distinguished a theatrical family as the Barrymores and just as colorful. Richard Bennett was as known for his spirited antics as his close friends Lionel and John Barrymore. Bennett was famous for having battles with critics of the day and wrote scathing letters not only when they panned his performances but when they praised them as well. The entire Bennett family was known for their arguments with the press. Once during a well-publicized dispute, Joan had a de-scented skunk delivered to powerful Hollywood columnist Hedda Hopper. Hopper later gave the skunk to James and Pamela Mason as a companion for their cats, but not before christening it "Joan.". Her contemporaries were shocked that Joan had the nerve to do such a thing to Hopper, who it was thought had the power to make and break careers; however, Joan had no qualms about it.
During the thirties, Constance and Joan Bennett were enormously popular. They seemed to be on every other page of every movie magazine in the country. Constance's stormy marriages to millionaire Philip Plant, Henri Falaise, Marquis de la Courdaye and handsome leading man Gilbert Roland were frequently documented in the press. Constance was the mother of three children, Peter Plant (a businessman) and Gyl Roland (an actress and image consultant) and Lorinda Roland (a sculptress).
Blonde, stunning and honey-voiced Constance Bennett glided through comedies like Topper (1937), Merrily We Live (1938) and Topper Takes a Trip (1939) with a delightful sprite-like lightness and definite air of sophistication. Constance's portrayal of the merry, witty and troublesome ghost Marion Kirby in Topper is certainly her most memorable.
Her most acclaimed dramatic films include Common Clay (1930), The Common Law (1931) and the excellent What Price Hollywood (1932) co-starring talented director and actor Lowell Sherman. A Star is Born was actually based on Constance's film What Price Hollywood.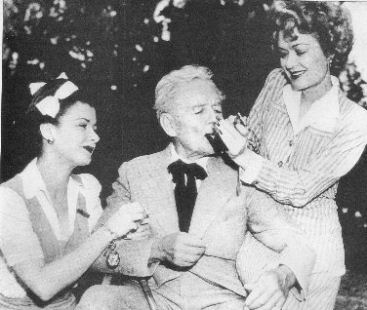 Joan, Richard and Constance on their father Richard's 72nd birthday
Constance Bennett was as assertive with studio heads as she was with the press. While negotiating a contract with Warner Brothers, being the shrewd, clever businesswoman that she was, Constance insisted that Jack Warner pay her agents fee and income tax as well as her high salary. If a male actor had managed this deal in the thirties it would have been unusual. For a woman to manage such a thing in those days was unheard of. What actor today could get the studio to pay his or her income tax off the top? When it was once commented that Constance could not take her money with her, her father Richard said, "If Constance can't take it with her, then she won't go."
Constance was also a highly skilled poker player and was often permitted to play in games that were usually for men only and more often than not won.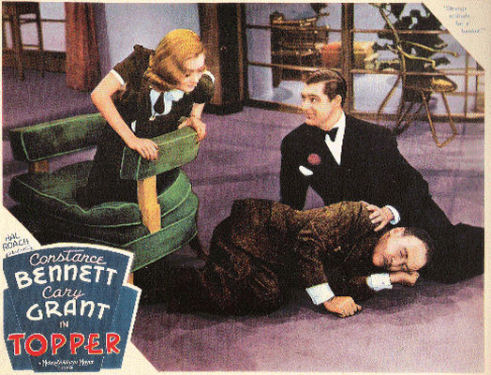 Cary Grant, Constance Bennett and Roland Young in Topper (1937)
Like her father Richard and sister Joan, fiercely independent Constance loved a good fight, especially if it happened to be with critics or other members of the press. Eventually it was this defiance that alienated her from the film industry's powers-that-be and seemed also to have essentially ended her film career. One thing that can be said for her, Constance was as indifferent to their opinions on her way down as she was on her way up.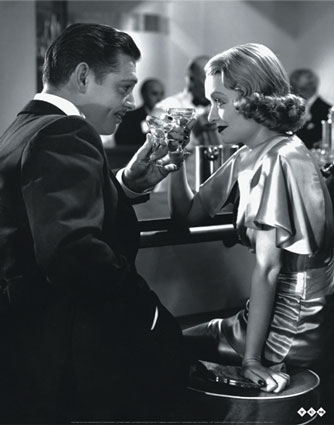 Clark Gable and Constance Bennett in After Office Hours (1935)
In Joan Bennett's 1970 autobiography The Bennett Playbill, she eloquently described her sister Constance: "That beautiful sister of mine was an overwhelming and volatile mixture. One had the feeling that she'd been shot from a canon and showered her sparks over an incredulous world with no thought or care where they fell, a carbon copy of father. She was like some silvery comet who streaked through life with daring speed, the wellspring of which was an inner confidence that I deeply admired. At times, particularly in childhood, I was intimidated by her but she dictated from an aura of affection for me that was never threatening."
Gorgeous Magazine Cover Girls Joan in 1938 and Constance in 1931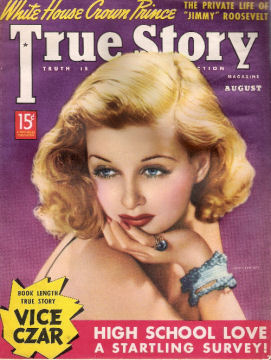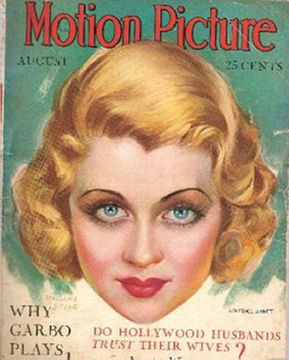 Joan Bennett never had any desire to become an actress, she wished only to be a wife and mother. Joan married Jack Fox at the age of 16, became a mother at 17 and was divorced by the time she was 18 years old. In order to support herself and her baby, Joan decided to try acting until something better came along.
Joan Bennett (center) in Little Women (1933)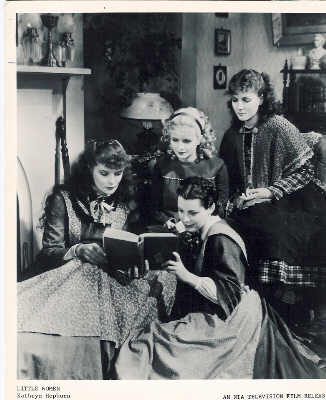 Joan went through two phases in her film career. During the thirties, resembling a golden-haired porcelain doll, Joan usually played the innocent ingénue. The most memorable of these roles was her portrayal of Amy in Little Women (1933).
The second phase of her career began with the film Trade Winds (1938) where a new raven-haired Joan appeared. "After that film everyone liked me in dark hair," explained Joan, "so I turned my hair dark and have received much better parts ever since." Many people noted a resemblance between Joan and Hedy Lamarr who would later marry Joan's second husband screenwriter Gene Markey. Joan said, "There must have been something to it because after Trade Winds was released, I was greeted as Miss Lamarr in dimly lit restaurants. Personally, I liked the idea of escaping from all that bland, blonde innocence and thought the whole thing was very funny, but I don't think Hedy found the comparisons very amusing."
Because of her glamorous, new brunette look as well as her exceptional talent, Joan was very seriously considered for the role of Scarlett O'Hara in Gone With The Wind, Joan claimed the part would have been hers had Vivien Leigh stayed in England.

The 1940s and 1950s were the "film noir" decades. It was during the forties that Joan Bennett, alluring and husky voiced, found her niche as a film noir femme fatale. Fritz Lang directed the films which were among the highpoints of her career beginning with Man Hunt (1941) where Joan gave perhaps her most poignant performance as a Cockney prostitute with a heart of gold. The next two Lang films both co-starred Edward G. Robinson and Dan Duryea, The Woman In The Window (1944) and Scarlet Street (1946) where Joan played "Lazy Legs", a character who was obviously lackadaisical and careless to the point of sloppiness in her surroundings but managed to be unquestionably glamorous at the same time. In The Woman In The Window, Edward G. Robinson becomes captivated by a painting of a beautiful woman and once he meets her, she sends him on the road to destruction.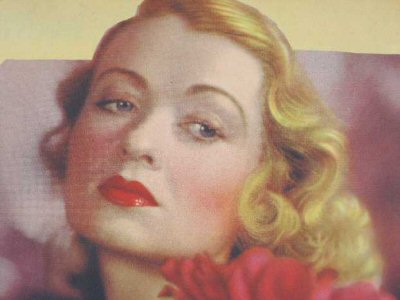 Constance Bennett in the 1930s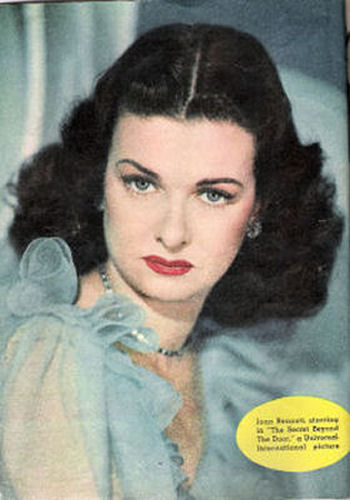 Joan Bennett in Secret Beyond the Door (1948)
Joan continued this film noir trend in Jean Renoir'sThe Woman on the Beach (1947) where she was a faithless wife deceiving a blind husband. She teamed with Fritz Lang once again in Secret Beyond The Door (1948) a film somewhat reminiscent of Alfred Hitchcock's Rebecca where Joan played a bride terrified of her husband, and like Rebecca the central character of the film is the female star. Joan Bennett carries the film all the way through.
Two of her best films were Ernest Hemingway's The Macomber Affair (1947) again as a devious wife and she gave a multi-faceted portrayal of a blackmail victim of James Mason in The Reckless Moment (1949).
Just one year after giving birth to her daughter Shelley, Joan Bennett became a grandmother at the age of 39 when her eldest daughter Diana became a mother. Marlene Dietrich, consistently referred to as "The World's Most Glamorous Grandmother" sent Joan a telegram saying "Thanks for taking the heat off."
Joan Bennett and Spencer Tracy in the delightful Father's Little Dividend (1951)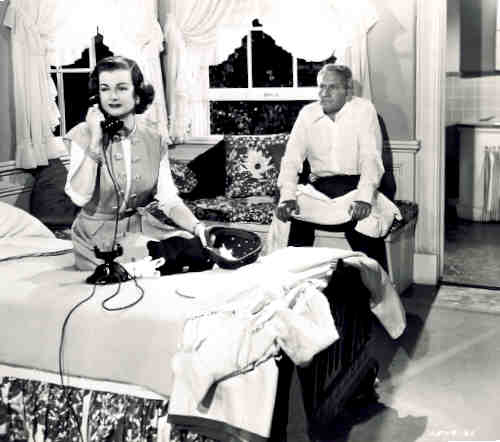 Almost directly from film noir, Joan segued into playing Spencer Tracy's wife and Elizabeth Taylor's mother in the thoroughly charming family comedies Father of the Bride and Father's Little Dividend. It was during this time, that Joan Bennett became involved in a scandal that she once said "destroyed my career in the motion picture industry".

Joan's husband producer Walter Wanger in a blinded, jealous rage shot and wounded her agent Jennings Lang in a parking lot. Wanger went to prison for four months. Lang fortunately recovered and the Wangers eventually divorced in 1965. Joan once said "I might as well have pulled the trigger myself" because after the shooting incident she was virtually blacklisted. Joan made only five films in the decade that followed. Like her sister Constance, Joan turned successfully to the stage.
Constance Bennett and Lana Turner in Madame X (1966)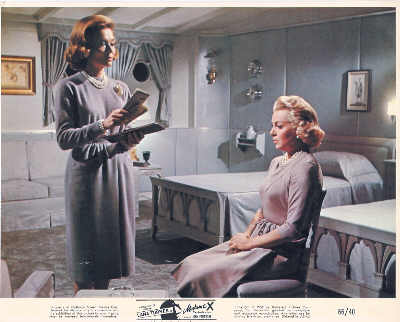 During the last years of her life Constance Bennett, found happiness and contentment in her marriage to Air Force General John Coulter. After an absence of 12 years, still beautiful Constance, who looked more than a decade younger than her age, returned to the screen in the film Madame X with Lana Turner. As chic and slender as ever, Constance gave an acerbic yet elegant portrayal of the vicious mother-in-law. Shortly after the film's completion in 1965, Constance suddenly died of a cerebral hemorrhage.

In addition to the stage, Joan Bennett also found success in television. For five years Joan had a role on the gothic soap opera Dark Shadows which brought a whole new following of fans who remain loyal to this day.
In 1978 Joan married movie critic David Wilde who remained her husband until the end of her life. In December 1990, Joan Bennett passed away at the age of 80. Joan was survived by four daughters, Diana Anderson, Melinda Bena, Stephanie Guest and Shelley Wanger and 13 grandchildren. In her beautifully written book The Bennett Playbill, Joan wrote: "I'm aware of the priceless privilege of having been born into the theater. Although it was a career I rejected at first, the profession has given me an incredibly varied life and more than my fair share of success, failure, love, laughter and despair. I've not a single regret for any of it."
Copyright © Dina Di Mambro 1983-2015. This article may not be reprinted without permission.
Joan & Constance Bennett Films on DVD
Joan & Constance Bennett Movie Art & Books
Dina Di Mambro's Classic Hollywood Biographies
Classic Film Actress Vintage Movie Magazine Gallery - 1920s thru 1950s Covers
BOOK - TRUE HOLLYWOOD NOIR
- Uncover true stories of Hollywood mysteries, scandals & murders in a dozen different chapters featuring William Desmond Taylor, Thomas Ince, Jean Harlow, Thelma Todd, Joan Bennett, Lana Turner, George Reeves, Gig Young, Bob Crane, Natalie Wood, Robert Blake, and Mickey Cohen. Included in the cast of characters of the Thomas Ince chapter are William Randolph Hearst, Marion Davies, and Charlie Chaplin. And in the Mickey Cohen chapter, find never before told stories about Ben "Bugsy" Siegel, Virginia Hill, and a host of notorious underworld figures.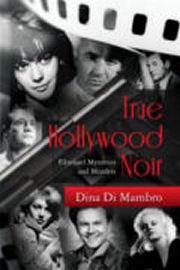 Buy True Hollywood Noir by Dina Di Mambro today!
A tantalizing mixture of classic Hollywood nostalgia and true crime, True Hollywood Noir: Filmland Mysteries and Murders , featuring 100 rare photographs, is suspenseful, entertaining, and eminently readable. While viewers were captivated by the drama playing out on the silver screen, the lives of the stars of these film noir classics were often far more exciting. The film plots of these stylish black and white masterpieces pale in comparison to what was going on behind the scenes. Uncover the true stories in a dozen different chapters featuring William Desmond Taylor, Thomas Ince, Jean Harlow, Thelma Todd, Joan Bennett, Lana Turner, George Reeves, Gig Young, Bob Crane, Natalie Wood, Robert Blake, and Mickey Cohen. Included in the cast of characters of the Thomas Ince chapter are William Randolph Hearst, Marion Davies, and Charlie Chaplin. And in the Mickey Cohen chapter, find never before told stories about Ben "Bugsy" Siegel, Virginia Hill, and a host of notorious underworld figures.
Author Dina Di Mambro has written extensively about classic movie stars of the golden age of Hollywood from the time she was a teenager. Her book Television Series Regulars of the Fifties and Sixties In Interview (McFarland Publishing, written under the name Dina-Marie Kulzer) consists of 22 in-depth interviews with stars of classic TV series and originally was published in 1992. In addition, she has worked as a research consultant and provided materials for biography specials about Carole Lombard for the A & E Network and E! Entertainment Television.