GLENN FORD: AN INTERVIEW (1990)

By Dina Di Mambro
The passing of Glenn Ford (August 30, 2006) marks the loss of the last great leading man of the golden age of Hollywood. This is truly the end of an era. It was one of the great thrills of my life as a classic movie lover and journalist to interview Mr. Ford. I was young and absolutely terrified to do an interview with such a legendary actor. Mr. Ford immediately put me at ease and was as charming as you would hope him to be. It was an honor and privilege to talk with him. Mr. Ford spent the last years of his life in the loving care of his son Peter Ford and his family.
On May 1, 2006, a gala 90th birthday celebration was held at Grauman's Egyptian Theare where a restored print of Gilda was screened on the 60th anniversary of its original release. Mr. Ford was unable to attend; however in a a videotaped message played at the tribute, he said "I wish I could thank every one of you personally with good wishes to all of you.... I wish I were up and around, but I'm doing the best that I can.... There's so much I have to be grateful for." Audiences worldwide are grateful for the legacy of outstanding films and sterling performances that Glenn Ford leaves us.
The following interview stands as written in 1990 in the present tense with only slight updates.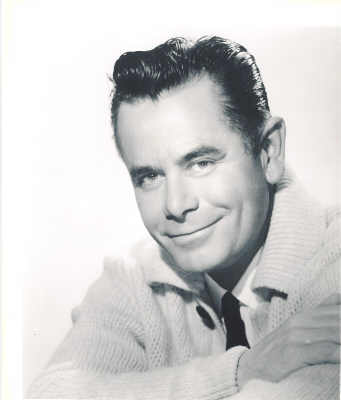 A commanding and powerful actor, Glenn Ford, has earned the admiration, affection and respect of both filmgoers and colleagues alike. One thing that's evident in all of Ford's films is that he never overplays a scene. In his own quiet intense way, he captivates all who watch him by the sheer force of his performances.
Ever handsome and disarming with deep emotions mirrored in his penetrating blue eyes, Ford has played a wide variety of roles in his distinguished career. Men will most likely think of him as a tough, introspective hero or hell-raising gunfighter ...women as a romantic leading man. In comedies, he was hilarious as the seemingly inept Captain in Tea House of The August Moon (1956) and both funny and touching as the playboy turned resistance fighter in Four Horses of the Apocalypse. (1961).
Certainly his most memorable roles included the idealistic teacher in The Blackboard Jungle (1955) or as the bootlegger in A Pocketful of Miracles (1961). With his friend William Holden, Ford made two westerns. Texas (1941) and The Man From Colorado (1949) where he played a demented judge. One of his best roles was that of the recently widowed father of Ronny Howard in The Courtship of Eddie's Father (1963). With the completion of Casablanca Express and The Law and Randada, Glenn Ford marks an amazing 222 starring roles in films and television since he began in the motion picture industry. Fifty-five of these have been in the western genre.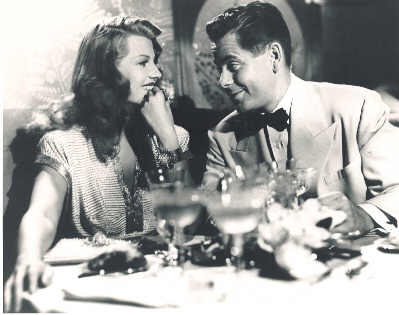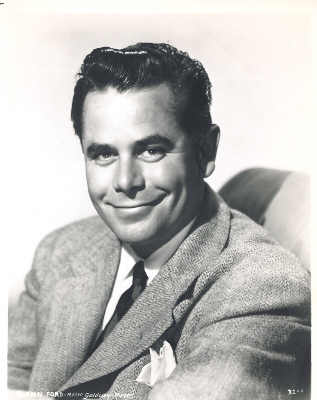 One of the first questions I asked Glenn (who is every bit as likable and genuine as he appears on screen) during our interview in 1990, was how it felt to be in a western again. "Nothing ever changes as far as Westerns are concerned. They are the same today as they were years ago," he chuckled. "Actually, I can't frankly see much difference in the film industry at all. The only difference might be that they don't take as much time as they used to. For example, they'll do in one day what we used to take a week to do. I think the director is becoming more important," he continues. "To work under rushed conditions, you need to have an extremely professional director. If the director's good than the end result will be good."
Glenn Ford, Ronny Howard and Shirley Jones in The Courtship of Eddie's Father (1963)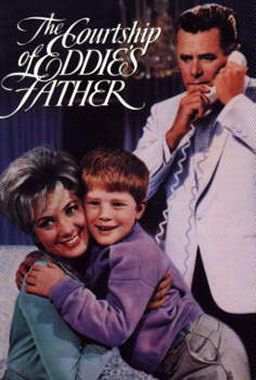 Ford was born Gwyllyn Ford in Quebec City, Canada on May 1, 1916. His father was with the Canadian Pacific Railway and his family also owned a paper mill in the village of Glenford, where his father was born. He took his stage name after his father's birthplace. Ford moved to Los Angeles at the age of eight, and later went to Santa Monica High School. Prior to his work in film he worked as a stage manager as well as an actor. "I never thought I would become an actor. I never gave it a second thought because a long time ago, I was told I wasn't the type," explains Glenn. "I started as an assistant stage manager. I was Tallulah Bankhead's stage manager for three shows, for example.
"I don't know how it is now but the assistant stage manager had to understudy several parts. You had to be ready to go on at any time if the actor couldn't make it to the play. I didn't think anything of it. I suddenly realized that the fellow who didn't show up was getting about fifty-times more money than I was getting," he laughs. "So I thought, 'this is silly,' and became an actor. I certainly never thought I'd wind up in motion pictures. That was far beyond anything I'd ever dreamed of."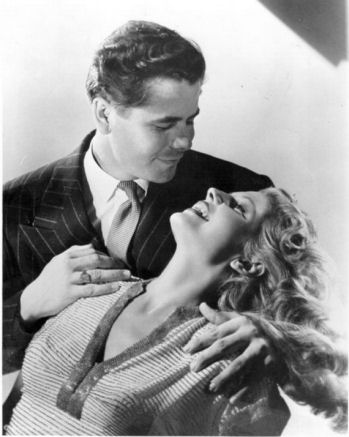 Glenn Ford and Rita Hayworth in Gilda (1946)
Those of us who think of Ford as a romantic leading man will undoubtedly remember his screen teaming with breathtakingly beautiful Rita Hayworth. They made five films together, however, the one that most remember is the "film noir" classic Gilda (1946).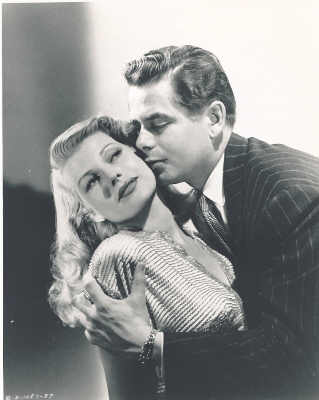 Almost every woman in the country fell in love with Ford as "Johnny Farrell". Glenn and Rita had combustible chemistry. Hayworth, with her cascading, flowing red hair and the darkly handsome Ford exuded a scintillating sensual undercurrent throughout the whole film, which dealt with love/hate passion. When I mentioned that women fell in love with him in Gilda, Glenn laughed heartily."The women fell in love with me? You mean every man in the world who saw Gilda fell in love with. Rita." He paused for a moment, and then added quietly, "As did I. I think the film remains so popular because people realize that it's a true story--that Rita and I were very much in love. And we remained terribly fond of one another. I guess that electricity came across on screen. I don't know. I really was in love with Rita."
Giving stellar performances in classic films hasn't been the only important thing in Ford's life. Few know that he is also a war hero. Ford interrupted his career in 1942 to enlist in the U.S. Marine Corp., where he served in the Second World War until 1945.
In 1990 he held the rank of Captain in the U.S. Naval Reserve. He also served two tours of duty in Vietnam, and is the only actor to have served with both the Green Berets and the French Foreign Legion. His medals and commendations from governments overseas and in this country are numerous. In the late eighties, he was presented with the Chevalier of the Legion of Honor, a decoration rarely given to Americans by President Mitterand of France. The French Counsel General cited him for courageous service to the French people during World War II.
"I was very honored. That was unexpected," says Glenn. When asked about Vietnam, he just confirmed hat he did do two tours of duty there. The modest actor is obviously not the type of man who boasts of wartime heroics even though he could easily do so.
Ford is also an adventurer. He is the only actor to have climbed the highest mountain in Europe-Mont Blanc. "That was in 1949;" confirms Glenn. "I was making a film called The White Tower at the foot of Mont Blanc-- the one thing I learned from that experience was that it's more difficult to go down a mountain than to go up. A lot of people don't realize that," he laughs. "Don't forget when you're going up you're looking at the side of the mountain. When you're going down... you're looking at nothing."
Ford's friend, the late William Holden was something of an adventurer as well, and had a wild life preserve in Kenya, which is still in operation to this day. When asked about being good friends with Holden, Ford gently corrected me. "We weren't just good friends. He was my very best friend. I feel his loss very much still."
Both actors, often cast in Westerns, were known to do all their own riding and occasionally their own stunts. Ford's attitude on actors doing their own stunts seems to have changed over the years.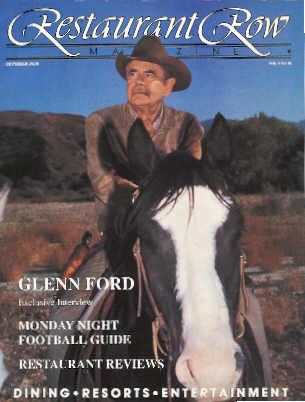 Glenn Ford (1990)
"Yes, I do all of my own riding," explained Ford in 1990. "I've had good stunt men working with me over the years. They make things look better than they really are. An actor would be foolish to do something that might hold up the picture, or more importantly incapacitate him. If an actor does do a stunt he needs to make sure a stunt man stands by to see that it's done correctly."
Ford's riding teacher was none other than Will Rogers. "I was going to Santa Monica High School at the time. I had a summer job at the polo games. I was paid $3 to take tickets and pass out programs. That $3 was lot of money at the time. One day Mr. Rogers asked me if I wanted to hold his horses. "One thing led to another and I didn't have to take tickets any more because I now worked for Mr. Rogers. He said if I was going to take care of his horses than I'd better learn how to ride. He was very kind to me. He was very commanding, and you had to know what you were doing to work for Mr. Rogers. I learned how to ride very quickly with him as my riding teacher."
In his private life Glenn Ford was married four times to Eleanor Powell (1943-1959) who was the mother of his son Peter; Kathryn Hays (1966-1969) an actress on the daytime drama As The World Turns since1972; Cynthia Hayward 1977-1984 and Jeanne Baus briefly in 1993.
As an actor, Ford has no preference in playing heroes or villains. "It really doesn't matter whether it's the villain or the hero," points out Glenn. "Sometimes the villain is the most colorful. But I prefer a part where you don't know what he is until the end. An actor should be ready to play any role within reason. For example, I think the most ridiculous thing for me to do would be to try and play Shakespeare." Well, maybe not Shakespeare; however; Glenn Ford's unique brand of charm, masculinity and strength will entertain future audiences for decades to come.
Copyright © Dina Di Mambro 1990-2015. This article may not be reprinted without permission.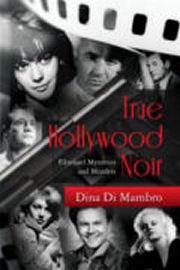 Buy True Hollywood Noir by Dina Di Mambro today!
A tantalizing mixture of classic Hollywood nostalgia and true crime, True Hollywood Noir: Filmland Mysteries and Murders , featuring 100 rare photographs, is suspenseful, entertaining, and eminently readable. While viewers were captivated by the drama playing out on the silver screen, the lives of the stars of these film noir classics were often far more exciting. The film plots of these stylish black and white masterpieces pale in comparison to what was going on behind the scenes. Uncover the true stories in a dozen different chapters featuring William Desmond Taylor, Thomas Ince, Jean Harlow, Thelma Todd, Joan Bennett, Lana Turner, George Reeves, Gig Young, Bob Crane, Natalie Wood, Robert Blake, and Mickey Cohen. Included in the cast of characters of the Thomas Ince chapter are William Randolph Hearst, Marion Davies, and Charlie Chaplin. And in the Mickey Cohen chapter, find never before told stories about Ben "Bugsy" Siegel, Virginia Hill, and a host of notorious underworld figures
Glenn Ford Films on DVD
Glenn Ford Movie Art & Posters
Dina Di Mambro's Classic Hollywood Biographies
Author Dina Di Mambro has written extensively about classic movie stars of the golden age of Hollywood from the time she was a teenager. Her book Television Series Regulars of the Fifties and Sixties In Interview (McFarland Publishing written under the name Dina-Marie Kulzer,) consists of 22 in-depth interviews with stars of classic TV series and was originally published in 1992. In addition, she has worked as a research consultant and provided materials for biography specials about Carole Lombard for the A & E Network and E! Entertainment Television.

Any questions or comments? Please contact