William Powell and Myrna Loy
Elegance & Wit Personified
By Dina Di Mambro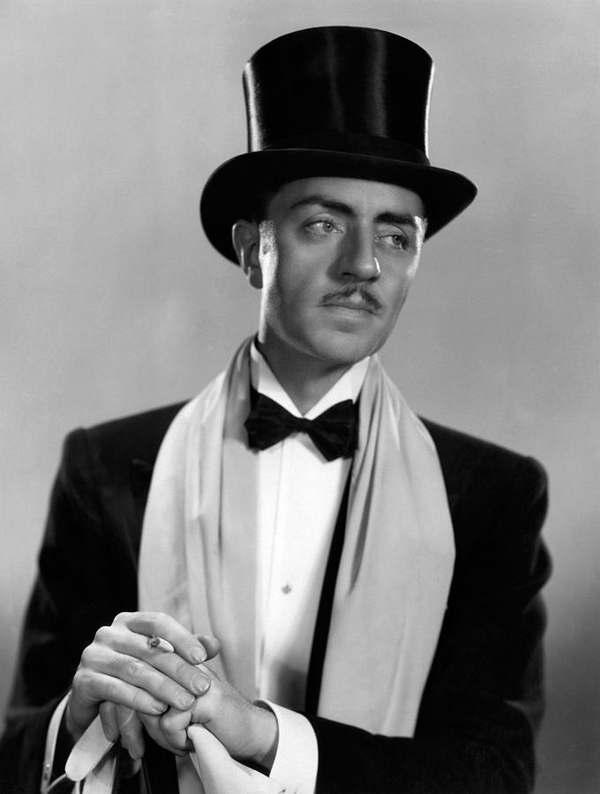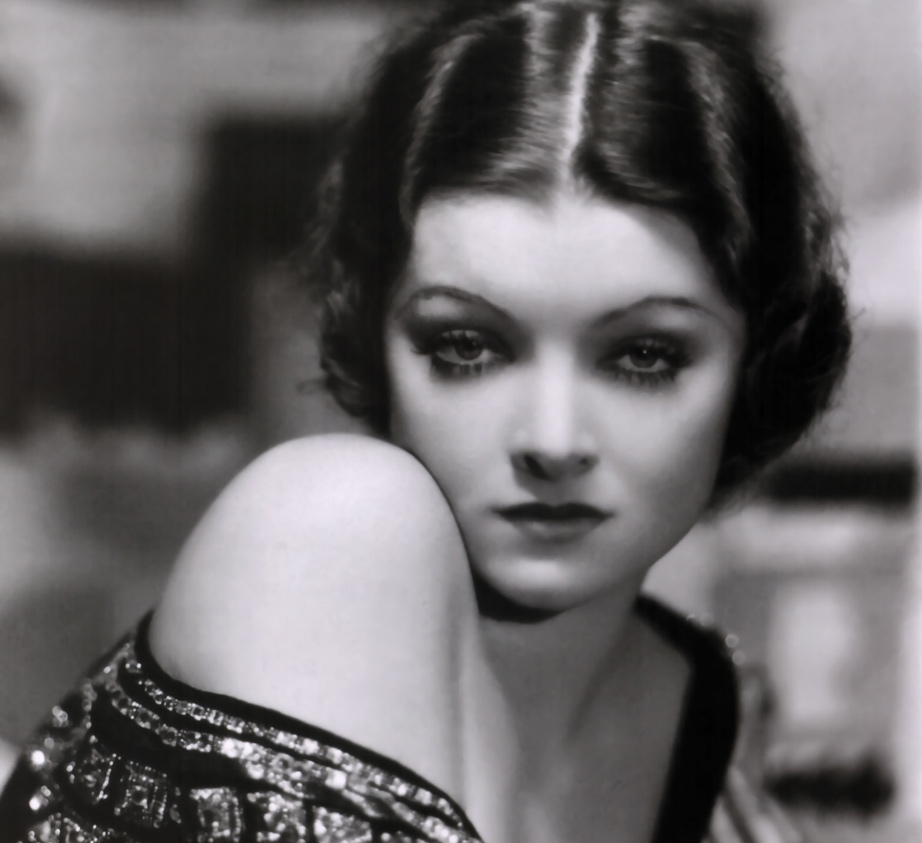 "You see, the important thing is the rhythm. You always have rhythm in your shaking.  Now a Manhattan you shake to a foxtrot.  A Bronx to a two-step time.  A dry Martini you always shake to waltz time." – William Powell as Nick Charles in the opening scene of Dashiell Hammett's  The Thin Man.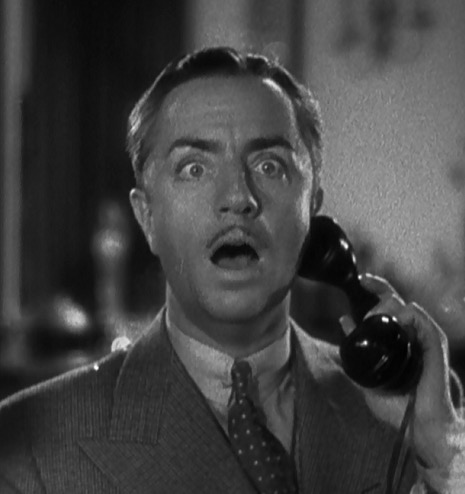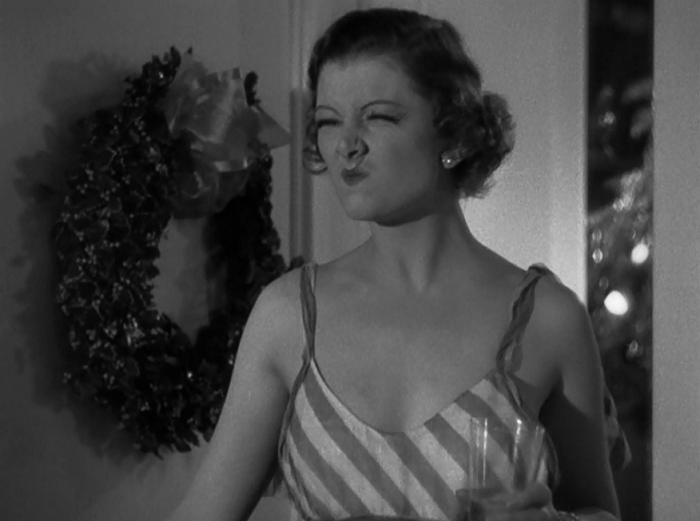 The wonderfully, comic and fun loving William Powell and Myrna Loy

Like a sublime dry martini, Myrna Loy and William Powell had an intuitive, flawless rhythm throughout their legendary screen teaming in 14 films together. Similar to the perfect marriage of gin and a splash of vermouth, they were an exemplary blend of sophisticated charm, subtle wit and affection. During the 1930s, most films ended with the couple in love and living "happily ever after." The story ended when it was really just beginning.  Powell and Loy as "Nick and Nora Charles" in The Thin Man (1934) were the first couple who showed that marriage could actually be fun. The characters had a playful camaraderie and banter. They exuded a romantic, sexual chemistry with an underlying deep bond of friendship. There was an unprecedented sense of fun in the original Thin Man which was shot in just 16 days that continued through most of the five sequels.

The first film they appeared in together in was Manhattan Melodrama (1934) with Clark Gable and Powell as boyhood friends with Gable's character growing up to be a gangster, Powell the District Attorney and later Governor, and Loy the woman they both love. Director Woody "One Take" Van Dyke noticed an off screen rapport and chemistry between Powell and Loy and insisted on Loy being cast opposite Powell as "Nora Charles" against MGM's wishes. The shortsighted studio did not see Loy's instinctive flair for comedy. Fortunately, Van Dyke prevailed.

Loy recalled in her autobiography Being and Becoming, the first time she met her future screen partner William Powell on the set of Manhattan Melodrama. "Woody Van Dyke never introduced us, probably because he assumed we already knew each other. It was a night scene on the back lot and it was raining. I was supposed to open the door and get in and sit beside Bill Powell, which I did. I looked at him and he looked at me, and he said 'Miss Loy, I presume'. Right there from the start there was that marvelous thing between us."

Powell once said that "Even my best friends never fail to tell me that the smartest thing I ever did was to marry Myrna Loy on the screen.  I never saw Myrna go into a temperamental tantrum, rave and rant, or walk off the set in a huff. When we did a scene together, we forgot about the technique, camera angles and microphones. We weren't acting. We were just two people in perfect harmony."

Manhattan Melodrama holds a special place in actual (not just cinematic) history due to the fact that Public Enemy No. 1, gangster John Dillinger was gunned down at the Biograph Theatre in Chicago after seeing the film. Although Dillinger's infamous date that evening was "the lady in red", it was Loy who caused him to come out of hiding, luring him to the theater (as he was reportedly a big fan). "Personally, I suspect the theme of the picture rather than my fatal charm attracted him, but I've always felt guilty about it, anyway," Loy said later. "They filled him full of holes, poor soul."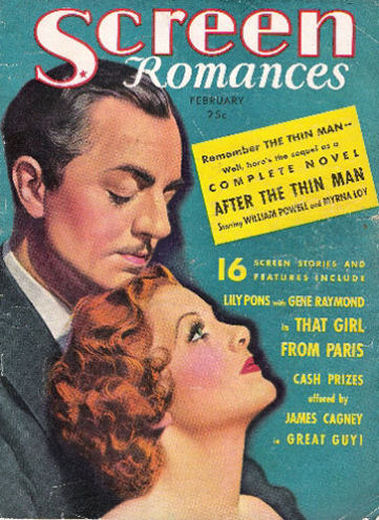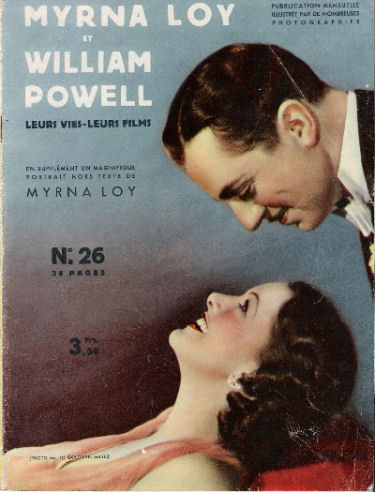 Glorious Powell and Loy Magazine Covers from the 1930s
Loy tailored her performances to her leading man.  She was a little tough with Clark Gable and more playful with William Powell. "Bill was so naturally witty and outrageous that I stayed somewhat detached, always a little incredulous," reminisced Loy. "From our very first scene, a curious thing passed between us, a feeling of rhythm, complete understanding, an instinct for how one could bring out the best in the other. In all our work together, you can see this strange—I don't know what---a kind of rapport. It wasn't conscious. If you heard us talking in a room, you'd hear the same thing. He'd tease me a little and a kind of blending emerged that seems to please people. Whatever caused it, though, it was magical and Woody Van Dyke brought it to fruition in our next picture—perhaps the best remembered of my 104 features---The Thin Man."

The successful premise of The Thin Man, often later imitated but never matched, is that suave, now retired  police detective "Nick Charles" is married to the rich, gingery and sometimes scrappy "Nora". Nick is perfectly content to live off Nora's money, enjoying the good life, and imbibing martinis all day but she wants excitement.  Along with their terrier "Asta", the sleuthing pair solves crimes.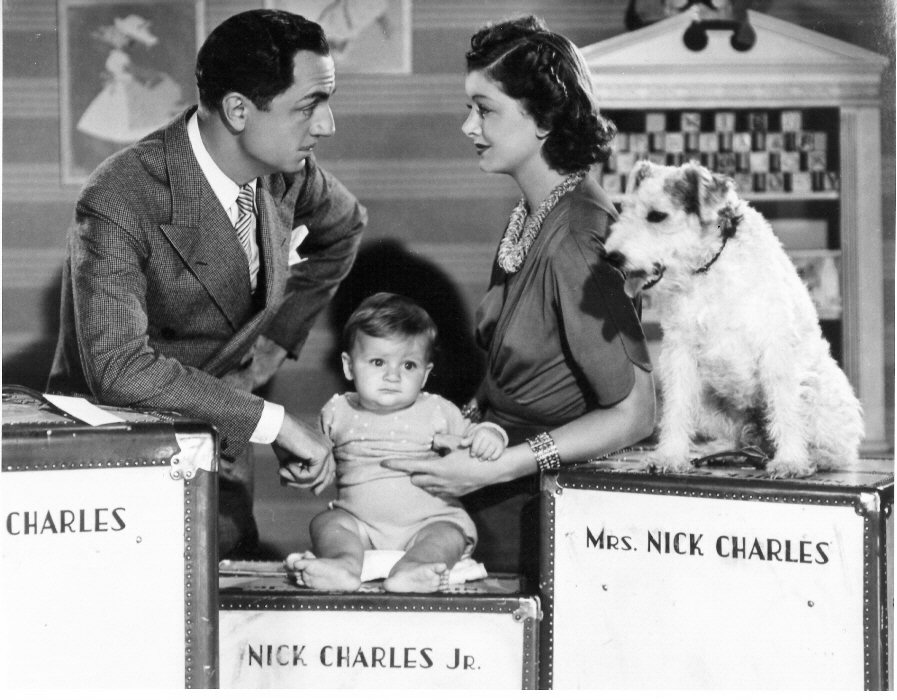 Another Thin Man (1939) - A Happy Family, Nick, Nora, Little Nicky and Asta
Later on they added the character of son "little Nicky" which Powell objected to because of how rapidly children age in movies. First he's a tot, then in military school and "before you know it we're grandparents." Loy mentioned that Asta… the "little rascal" bit her and wryly observed that the dog made the New York Times Crossword Puzzle before she did.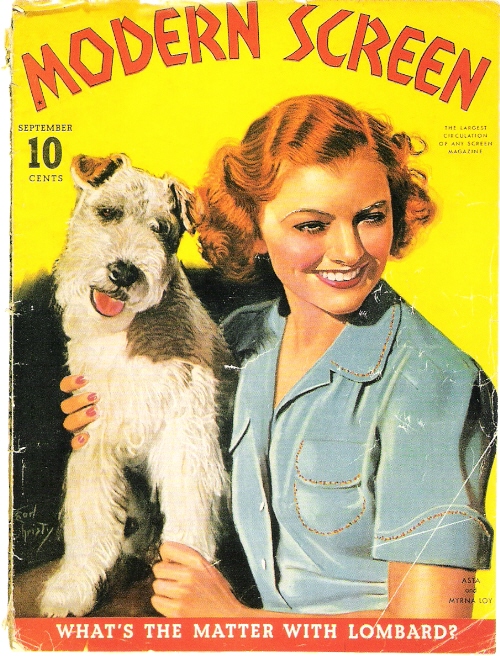 Nick often called Nora "sugar" or "Mommy"  but she had gumption and could more than hold her own in any situation. Loy was a unique screen comedienne at the time. While many of the female characters in 1930s screwball comedies were childlike, Loy was always adult and never over the top. The stylish actress could do more with a subtle raised eyebrow and knowing, sassy twinkle in her eye than all the hysterics of her contemporaries.  Below are some examples of the champagne, effervescent dialogue of The Thin Man:

Nick and Nora are driving and a group of people wave at Nora. "Who's that"? asks Nick. "You wouldn't know them darling…they're respectable."

Nick to Nora: "Darling, you don't need mystery. You have something much better and more alluring…me."

Powell used to grumble that Loy had it easier than he did in the denouncement scenes at the end of each Thin Man film when the killer was revealed. "The only problem came when Nick Charles would reveal who killed Cock Robin," laughed Loy. "Poor Bill complained loudly that he had to learn so many lines while I just gave him those knowing Nora Charles looks now and then."

Powell's screen persona was courtly, urbane and intelligent. "I have always had a great desire to be cool and sophisticated and master of every situation," once explained Powell. "This desire of mine, never gratified in real life, breaks out in film. It is a form of compensation. I am not that way, really."

While they were great pals in the Thin Man films, Powell and Loy's onscreen relationship was more adversarial in some of the screwball comedies they starred in during the thirties and forties. They were a perfect balance of Powell playing it broad and Loy underplaying.

Powell, often remembered today as the urbane, debonair leading man, was also great at slapstick comedy as evidenced in Libeled Lady (1936) during the fishing scene. Powell's character hasn't a clue how to fish and actually has a "how to" book hidden in a basket. "Bill does everything wrong and ends up with the prize fish," remembered Loy. "I see it now and I scream. It's a hysterical piece of work, but then Bill was a very gifted man, able to do great comedy and tragedy, everything."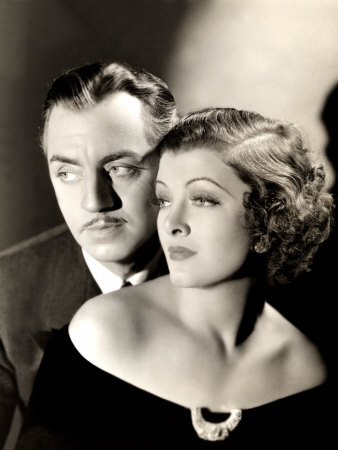 Powell and Loy were more than "Nick and Nora". In I Love You Again (1940) Powell played an amnesiac, and his character feigned insanity so Loy wouldn't divorce him in Love Crazy (1941). In both these films, Powell's penchant for physical comedy is evident. The all time great screen team really played against type in Double Wedding (1937) where Loy was a tightly wound control-mad business woman and Powell, a slipper clad, beret wearing bohemian artist. At one point Loy's character asks Powell's, "Do you take dope?"

The actors were so identified as a couple that they were often mistaken for married in real life. Loy, Powell and his real life lover Jean Harlow once took a weekend trip to San Francisco to publicize their film Libeled Lady. The hotel manager, confusing fantasy with reality, registered "William and Myrna Powell" in one room when it was actually Powell and Harlow who were to stay together. In the 1930s, with the press looking over their shoulders, they couldn't be obvious with their affair. Powell had to move to a tiny downstairs room while Loy and Harlow shared the more luxurious accommodations. "Bill complained bitterly, let me tell you, angling to get upstairs," laughingly recalled Loy.

It's often been speculated that Powell and Loy may have had an affair off screen but that is not the case. "Oh, there were times when Bill had a crush on me and times when I had a crush on Bill, but we never made anything of it," remembered Loy. "We worked around it and stayed pals. In this world today, nobody seems to understand how you can just be terribly close and love somebody a whole lot and not sleep with him. If Bill and I had been lovers, then we would have had fights. And if we'd been married it would have been even worse."

The good natured teasing on screen between the pair on screen also extended off camera. At one point during a newspaper poll, Loy was named "Queen of the Movies" and Clark Gable declared "King", a title that stuck with Gable throughout his lifetime and beyond. Loy was leaving for the "crowning" ceremony when she received an enormous box from the florist which was filled with dead leaves, dirty branches, and bunches of over-ripe, sour grapes. The card read from "William the Fourth". Powell came in fourth in the Tribune News voting.

William Powell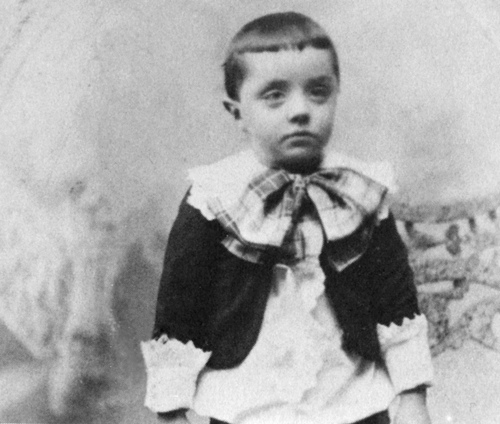 William Powell as a rather somber looking child

William Powell was born in Pittsburgh, Pennsylvania and grew up in Kansas City, Missouri. He was the son of Horatio Powell, a banker, and Nettie Powell. His father's ambition for his son to become an attorney was dashed when Powell took public speaking in high school and was bitten by the acting bug. Or as Powell once said, "A ham was born." 

Powell's parents did not support his decision to become an actor so he wrote a 23 page letter to his great aunt Elizabeth Heywood asking for $1,400 loan so he could study at the American Academy of Dramatic Arts in New York and become an actor. His Aunt Elizabeth gave him $700.00 which Powell paid back with interest, although it took him 13 years. He treated the loan as a business arrangement and later when a success in films had his father and mother come out to Hollywood to live near him. He knew his parents would not come to live with him without a purpose so he hired his father to handle his finances and the "William Powell acting business" and his mother as his private secretary.

At the American Academy of Dramatic Arts Powell worked hard to get rid of his mid-Western accent.  He struggled in theater and made his film debut in 1922 as one of Sherlock Holmes villain Professor Moriarty's henchmen in the silent Sherlock Holmes. More villain roles followed for the actor with the somewhat sleepy, heavy-lidded intense blue eyes.  Powell gave up the stage forever in favor of films. His voice training at the Academy served him well when his perfectly modulated, baritone mellifluous voice and polished manner more than helped him survive the "talkies".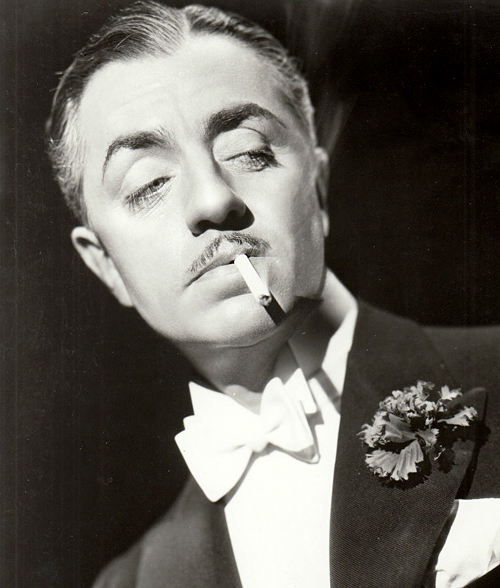 The dapper. sophisticated William Powell
He continued on with villain roles when he portrayed "John Marsden" based on real life underworld figure Arnold Rothstein in Street of Chance (1930) and several films with his one-time real life paramour Kay Francis in Jewel Robbery, and the iconic, romantic One Way Passage (1932). One Way Passage, in particular, still holds up today. Powell played a charming convict on his way to death row who falls in love with a dying woman on board a ship. He has a chance to escape but instead saves his lover and ends up going to the electric chair.

His cerebral approach to the business of acting also extended to his creative acting philosophy. Powell once said, "I have never gone into a picture without first studying my characterization from all angles. I make a study of the fellow's life and try to learn everything about him, including the conditions under which he came into the world, his parentage, his environment, his social status, and the things in which he is interested. Then I attempt to get his mental attitude as much as possible."

In his personal life, Powell married actress Eileen Wilson at the age of 22. Wilson was the mother of his only child William David Powell. They had a long separation before Powell divorced her in order to marry breathtaking comedienne Carole Lombard with whom he had a passionate affair.

By this time, Powell was known as one of the best dressed men in Hollywood and a great wit. When his then wife Lombard used to tease him about being well dressed, Powell would say "If a pigeon is going to compete against a peacock in a beauty pageant, the pigeon better buy himself some fancy tail feathers." Lombard and Powell had a student-teacher relationship but only a brief marriage. By 1933 they had divorced and briefly reunited, until Lombard fell in love with singer Russ Colombo. Powell and Lombard stayed good friends and Powell even intervened to get his ex-wife a role in My Man Godfrey (1936) for which she was nominated for an Academy Award.

Powell was great friends with actors Richard Barthelmess and Ronald Colman and relied on them after the divorce from Lombard. "My friends have stood by me marvelously in the ups and downs of my career. I don't believe there is anything more worthwhile in life than friendship. Friendship is a far better thing than love, as it is commonly accepted."

Following his divorce from Lombard, Powell entered into a relationship with Jean Harlow who desperately wanted to marry him. Powell gave her a 150 carat sapphire ring but refused to marry her. He had already been married to one young blonde sex symbol and didn't want to face divorce if he married another and it didn't work out. It was a great shock when Jean Harlow passed away at the age of 26 from uremic poisoning after falling ill on the set of Saratoga (1937). He was wracked with guilt following her death and bought her crypt providing her final resting place.

Throughout his life, Powell suffered from bouts of depression. He once said to Loy, "People don't know it, but I'm primarily Irish. We get these dark periods." Sadly, this tendency was something that was also passed onto his only child. His son William David Powell, who was a writer and producer, committed suicide violently in 1968 at the age of 43.

Jean Harlow's death was the beginning of a darkest period in Powell's life. Not long after her passing, Powell discovered that he had cancer of the rectum while just in his forties. He was one of the first patients to receive a temporary colostomy and was off the screen for nearly two years.  "The worst thing about the situation was the aesthetics of it," said Powell when he went public about his disease decades later.  Remarkably, Powell lived to the age of 91. "I was one of the lucky ones, they caught in time."

Powell took a trip to Italy in order to distract himself from his depression during the late 1930s. One day he noticed a boy dressed in rags who ran past him and called to some other boys. There was a great deal of excitement and an Italian translated to Powell that the boy was thrilled because "William Powell always made him laugh very much at the cinema". The incident improved Powell's state of mind and helped him through his melancholia. Acting wasn't just a business, he came to the realization that his work brought joy to people.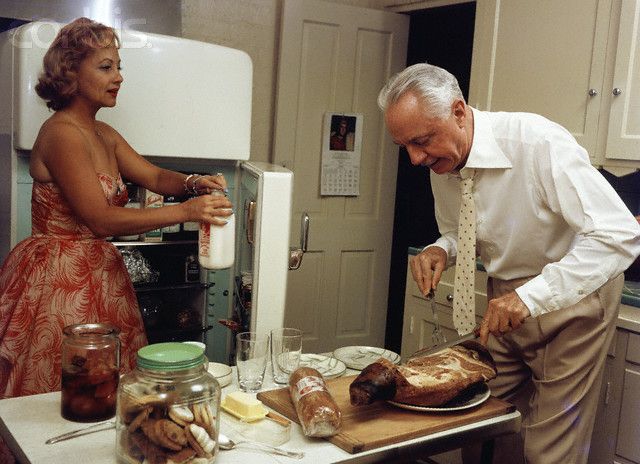 Bill & Mousie Powell happily at home in Palm Springs circa 1955
In 1939 Powell allowed the studio to do a photo shoot at his home by the swimming pool.  A young MGM contract player named Diana Lewis was one of the models. Lewis had grown up in vaudeville but to her acting was just a job. She had no desire to be a huge star which made her very different from Lombard and Harlow. Powell and Lewis fell in love. Loy later said that friends were skeptical about the age difference, Powell being 47 and Lewis just 21, but that Lewis nicknamed "Mousie" was a wonderful wife to Powell for more than 40 years. "He was mad about her."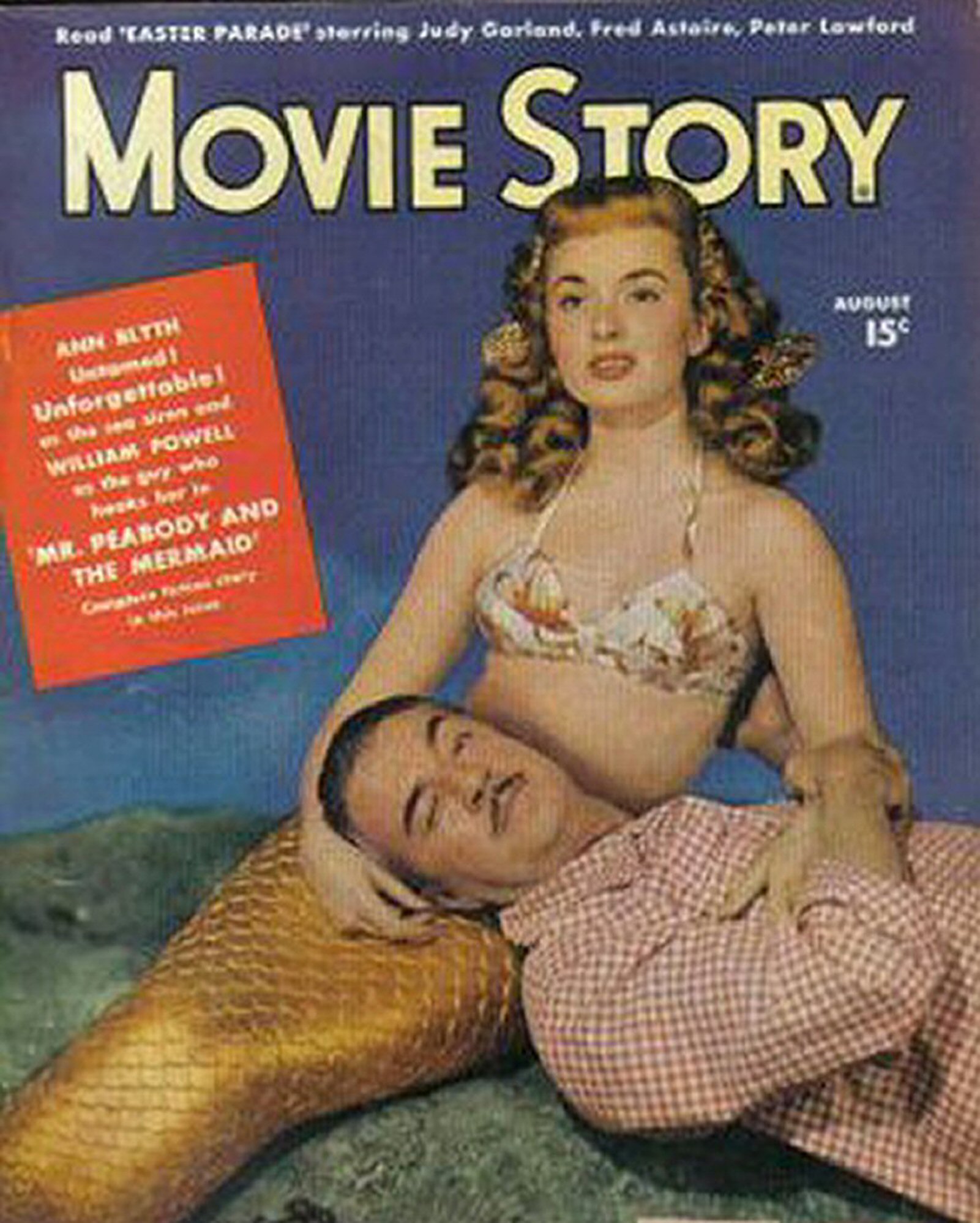 William Powell & Ann Bllyth in Mr. Peabody & the Mermaid (1948)
Subsequent his teaming with Loy, Powell made many notable films such as the lighthearted Mr. Peabody and the Mermaid (1948) with Ann Blyth and he vigorously campaigned for the role of the bombastic Clarence Day in Life with Father (1948) for which he was nominated for an Academy Award. He took on the role Lionel Barrymore made famous in the remake of A Free Soul  titled The Girl Who Had Everything (1953) and played a supporting role in How to Marry a Millionaire (1953) with Lauren Bacall, Betty Grable and Marilyn Monroe.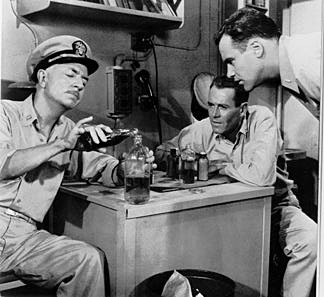 William Powell with Henry Fonda and Jack Lemmon making Scotch out of white lighening and iodine in Mr. Roberts (1955)
One of the greatest roles of his career was still to come. Powell, portrayed the wise, seen-it-all, world weary "Doc" in Mr. Roberts (1955), which had a perfect ensemble cast including Henry Fonda, James Cagney and Jack Lemmon. The film was shot on location in Hawaii. Lemmon remembered that Powell was sort of the den mother of the group of actors—always making snacks and tidying up. Cagney recalled that he would hang on every word of Powell's theater stories and that he was just as urbane off screen as on. And although Powell would live for nearly 30 years, this would be his last role and he went out with a bang---with flourish. No bad TV movies but fittingly "Doc" as his last screen appearance.

Powell had nicknamed Loy "Minnie" a name that many of her friends used as well. It seems the long location shoot did him in. "Minnie, I wouldn't even groom my moustache again, much less learn a movie role." Even though he never acted with Loy again, Powell never failed to send roses to her for each and every opening night.

Loy remembered visiting Powell in Palm Springs asking him what he did with himself all day. "I do my weeds," he replied. "For God's sake, Bill, you don't know one weed from another. "Well, it beats playing Elvis Presley's grandfather." Yes, Bill knew when to get out.
Myrna Loy

Myrna Loy as a child

Myrna Loy was born in Montana and came from pioneer stock and legislators including an Aunt who was county treasurer. Her father David Williams owned a ranch and mother Della was involved in the arts and would later live vicariously through her daughter. One of her neighbors was actor Gary Cooper. Both would become stars but never worked together. Loy once speculated that it was because Cooper wasn't funny enough and she wasn't serious enough. The little boys used to tease her "Redhead, gingerbread, five cents a loaf".

Her mother longed to live in California and her father did not want to leave Montana. In 1918 when Loy was just 13 the Spanish flu epidemic hit and tragically her father died but not before extracting a promise from his little girl that she would take care of her little brother and mother. Loy took this vow of responsibility very seriously and in many ways ceased being a child at that very moment . She became the family breadwinner as soon as she could.  After the family's move to California, Loy had a job dancing at Grauman's Chinese Theater where one of her fellow chorines was Joan Crawford. Years later when she became famous, Loy would put her hand and footprints at the theater with the inscription "To Sid…who gave me my first job."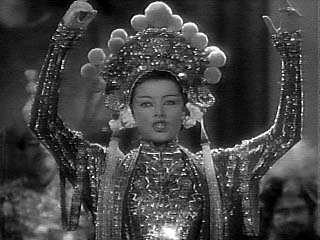 Myrna Loy as the exotic vamp before she became "the perfect wife" (Right photo as Fu Manchu's daughter)
From dancing at the live theater preshows, Loy graduated to being in the silent films as a bit player. From there redheaded, freckle faced Loy was hilariously miscast as some sort of kohl-eyed gypsy, native or Asian temptress. There was something about the setting of her almond shaped green eyes that gave off an exotic appearance on film. She played vamp sirens with names like "Nubi".  Loy once said, "They cast me as a Chinese in The Crimson City with Anna May Wong. Up against her, of course, I looked about as Chinese as Raggedy Ann."

Loy was also cast in The Mask of Fu Manchu (1932). Decades later her good friend Roddy McDowall had her over for a dinner party at his apartment in New York. "He played a devilish trick on me one night, luring me there and showing The Mask of Fu Manchu, the ghastly picture in which I play Boris Karloff's daughter." Roddy McDowall called her "Fu" from then on.

In her private life, Loy was married four times; however, the love of her life was her first husband producer Arthur Hornblow who was surprised when he first met his future wife. "What is this?" he asked. "You're not a stuffed China Doll. You don't look anything like those silly parts they're giving you."

From exotic siren roles, Loy became the perfect wife (a label she hated) in her films with Powell. "From that time on they called me the perfect wife which typed me as confiningly as those vamp roles had."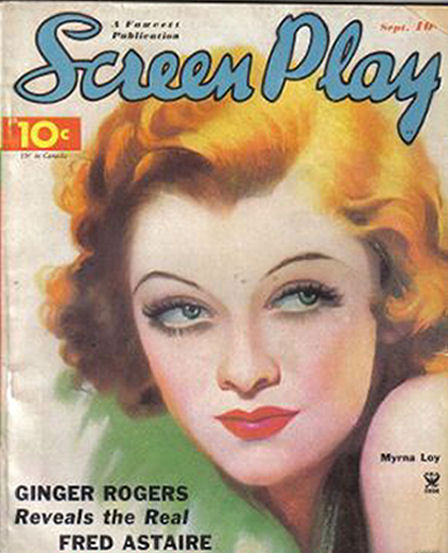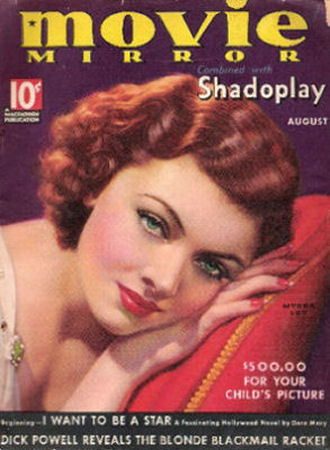 Far too classy to kiss and tell, in her autobiography she talked about her leading men---the ones she wanted and those that wanted her.  Clark Gable gave her a "monkey bite" when he walked her up to her front door with his wife Rhea in the car no less and she pushed him off the porch. Spencer Tracy pined after her for years. When he found Katharine Hepburn he petulantly told Loy she "didn't have to worry about him anymore". "I was relieved but a bit disappointed. As selfish as it sounds, I liked having a man like Spence in the background wanting me. It's rather nice when nothing is required in return."

The leading man Loy wanted in real life was Tyrone Power her costar from The Rains Came (1939). "I'm sorry to report we weren't lovers, but close to it. I loved him, but he was married to the damn Frenchwoman," said Loy of Power's wife at the time actress Annabella.

Loy's post Powell films included Mr. Blandings Builds His Dream House (1947) with Cary Grant, Cheaper by the Dozen (1951) and Belles on Their Toes (1952).

During 1941-1946 Loy made only one film devoting her time to World War II war efforts. Always civic minded, Loy worked full time for the Red Cross during the war and later for UNESCO (United Nations). She valiantly fought the House of Un-American Activities during the communist witch hunt. Loy campaigned vigorously for Adlai Stevenson and Eugene McCarthy and later to stop the Vietnam War, and worked for human and civil rights. Loy created quite the controversy when she suggested that negroes not just be relegated to servant roles. "Why not show a black man carrying a brief case up the courthouse steps?"

A lifelong liberal, Loy once observed "It's a mystery to me why a lot of people don't like Democrats. When I was growing up, it was all Democrats. We wouldn't let a Republican in the back door."

Jeanne Crain, who played Loy's daughter in Cheaper by the Dozen and Belles on Their Toes recalled,  "I remember Myrna dictating to her secretary carrying on UNESCO business. It was really with her heart and mind all the time. We used to talk about the United Nations view of the world and what must be done to eliminate disunity. Intelligent and tremendously caring, she brought so much into my ken that I, had really never thought about before, a world of consciousness about social issues and individual participation. During our private conversations, for the first time, I saw that underneath her composed exterior was a very, very passionate woman concerned for the life and the world."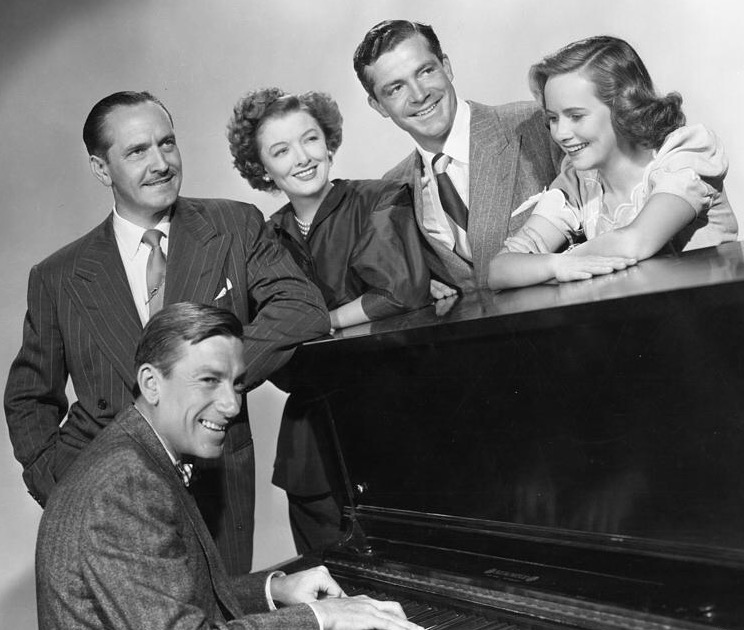 Hoagy Carmichael (at piano) Fredric March, Myrna Loy, Dana Andrews & Teresa Wright in The Best Years of Our Lives (1946)

After Loy left MGM, she had the greatest role of her career in the Best Years Of Our Lives (1946). "My most serious film as moving and meaningful today as it was then," she said in 1987. The wife in this film was more serious than Nora Charles. It was a more somber time. The film dealt with servicemen returning home from the war different people from when they left. The world had changed and they had to readjust to civilian life.

One scene has Loy's character's daughter telling her parents that they never had any problems. Loy's "Millie"says to"Al" portrayed by Frederic March: "We never had any problems? How many times have I told you I hated you and believed it in my heart? How many times have you said you were sick and tired of me, that we were all washed up? How many times have we had to fall in love all over again?"

In later years, Loy played character parts. "I'm happy to do small roles if they're good. You can't play smart glamour girls forever." She also seems to have eventually made peace with "the perfect wife" label. "If you want to know the secret of the perfect wife I played, well, she was really a rascal like me" said Loy to Life magazine when promoting her autobiography.

Loy's last great role was in the television film Summer Solstice (1981) as Henry Fonda's wife. When Fonda convinced Loy to make the film he told her it was a mature love story that needed to be told about the survival of a marriage. It was filmed in Cape Cod in the fall of 1980. Loy remembered that she and Fonda "worked together like a poem".

In a gross oversight, while Powell was nominated three times for an Academy Award, Loy was never nominated. She once commented that they didn't give them to comediennes. However, she was given an honorary Oscar in 1991. When she heard they were to give her the award she said "It's about time." During her heyday, she was paid half of what Powell was getting and stayed away from movies for more than a year until MGM met her demands, one of the first actresses to fight and win against the studio system.

When Powell passed away in 1984, Loy said "I never enjoyed work more than with Bill. He was a brilliant actor, a delightful companion, a great friend, and above all, a true gentleman."

Noel Coward once said of Loy, "Myrna dear, you have never played a false note." Loy left us in 1993.

Yet delightful companions William Powell and Myrna Loy remain flickering on computer and television screens or revival movie houses somewhere in the world…. immortal, sparkling perfection.
Copyright © Dina Di Mambro 2015. This article may not be reprinted without permission.
Recommended Further Reading
Myrna Loy quotes from Being and Becoming by Myrna Loy
William Powell quotes from Charles Francisco's excellent Gentleman: The William Powell Story
When linking to this site, please use below banner. Thank you.

William Powell & Myrna Loy DVDs
Powell & Loy Movie Art & Books
Dina Di Mambro's Classic Hollywood Biographies
BOOK - TRUE HOLLYWOOD NOIR - Uncover true stories of Hollywood mysteries, scandals & murders in a dozen different chapters featuring William Desmond Taylor, Thomas Ince, Jean Harlow, Thelma Todd, Joan Bennett, Lana Turner, George Reeves, Gig Young, Bob Crane, Natalie Wood, Robert Blake, and Mickey Cohen. Included in the cast of characters of the Thomas Ince chapter are William Randolph Hearst, Marion Davies, and Charlie Chaplin. And in the Mickey Cohen chapter, find never before told stories about Ben "Bugsy" Siegel, Virginia Hill, and a host of notorious underworld figures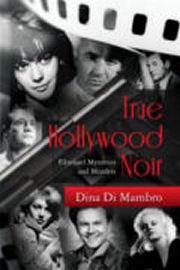 Buy True Hollywood Noir by Dina Di Mambro today!
A tantalizing mixture of classic Hollywood nostalgia and true crime, True Hollywood Noir: Filmland Mysteries and Murders , featuring 100 rare photographs, is suspenseful, entertaining, and eminently readable. While viewers were captivated by the drama playing out on the silver screen, the lives of the stars of these film noir classics were often far more exciting. The film plots of these stylish black and white masterpieces pale in comparison to what was going on behind the scenes. Uncover the true stories in a dozen different chapters featuring William Desmond Taylor, Thomas Ince, Jean Harlow, Thelma Todd, Joan Bennett, Lana Turner, George Reeves, Gig Young, Bob Crane, Natalie Wood, Robert Blake, and Mickey Cohen. Included in the cast of characters of the Thomas Ince chapter are William Randolph Hearst, Marion Davies, and Charlie Chaplin. And in the Mickey Cohen chapter, find never before told stories about Ben "Bugsy" Siegel, Virginia Hill, and a host of notorious underworld figures.
Author Dina Di Mambro has written extensively about classic movie stars of the golden age of Hollywood from the time she was a teenager. Her book Television Series Regulars of the Fifties and Sixties In Interview (McFarland Publishing, written under the name Dina-Marie Kulzer) consists of 22 in-depth interviews with stars of classic TV series and originally was published in 1992. In addition, she has worked as a research consultant and provided materials for biography specials about Carole Lombard for the A & E Network and E! Entertainment Television.