By Dina Di Mambro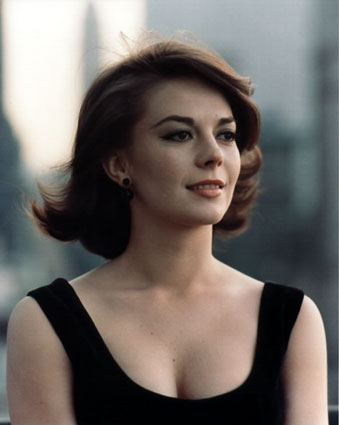 Although she began her career as a child actress, Natalie Wood was never what you could call a "child star". There was no hint of the cutesy mannerisms of some of her contemporaries, but instead a sense of seriousness and intelligence beyond her years in her performances. She radiated warmth and grace in every scene. This was particularly evident when she played a war orphan refugee complete with a German accent opposite Orson Welles and Claudette Colbert in Tomorrow Is Forever at the age of eight. Her soft brown eyes reflected every emotion she conveyed on screen. Natalie was one of the few child stars that was able to make a successful transition into adult roles with no awkward period in between. Her explanation of this was: "I just went on working. I was always skinny and as I got older I could still play young girls and get by. I was never a child star like Shirley Temple. I always looked like an ordinary kid." Natalie's talent was far from ordinary. Orson Welles once said of his little co-star, "She was so good, she frightened me."
Natalie Wood was born Natalia Nikolaevna Zakharenko on July 20, 1938 in San Francisco, California. She was the child of Russian immigrants Nicholas and Maria Zaharenko (later changed to Gurdin, and Natalia changed to Natasha), the middle daughter between older sister Olga and younger sister Lana. Natalie made her film debut at the tender age of four. Unable to read yet, her sister Olga would read the lines to her and Natalie would memorize them. Her incredible career spanned almost 40 years.
Natalie Wood and Edmund Gwenn in Miracle on 34th Street (1947)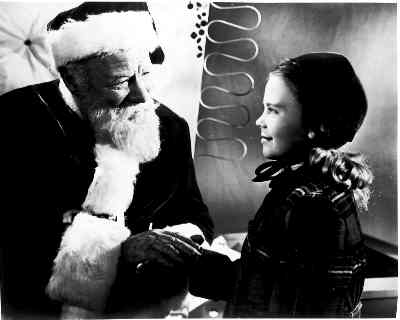 Perhaps her most memorable childhood role was that of "Susan", the little girl too sensible to believe in Santa Claus in Miracle on 34th Street (1947). That particular film is a holiday classic. It did, in fact, run on television in Los Angeles on the day of her untimely death. The flickering image of that talented, wise beyond her years child, was heartbreaking to watch.
The turning point in Natalie's career from child to more mature roles came in 1955 when she co-starred with James Dean and Sal Mineo in Rebel Without a Cause. Natalie received the first of three Oscar nominations for that film. The other two were for her stirring performances in Splendor in the Grass (1961) and Love With the Proper Stranger (1963). Natalie once described the effect Rebel Without a Cause and James Dean had on her career: "It was the first time I had any feelings about a role. Up to then I had just worked without questions. James taught me to relax before playing tense. I had never thought of acting that way before." In the film Marjorie Morningstar (1958), radiant Natalie again displayed her blossoming dramatic talent.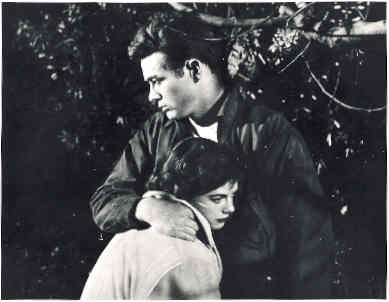 James Dean & Natalie Wood in Rebel Without a Cause (1955)
The love story of Natalie Wood and Robert Wagner is a unique and moving one. Ten year old Natalie fell in love at first sight with the handsome, enthusiastic young actor when she saw him walking down the hall at 20th Century Fox. She turned to her mother and declared "I'm going to marry him" and she did just that, twice.
They married the first time in 1957 when Natalie was only 19 years old. The Wagners were easily the most stunning Hollywood couple since Gable and Lombard. They divorced in 1962, blaming the end of this first marriage on mutual immaturity and career conflicts.
Robert Wagner and Natalie Wood on the cover of the November 1983 issue of Hollywood Studio Magazine and Motion Picture December 1957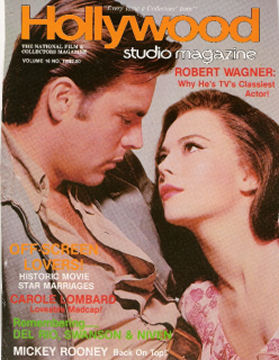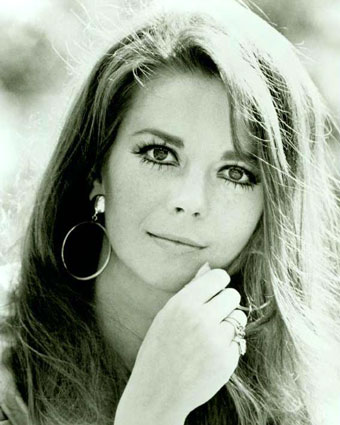 Natalie Wood Circa 1969
Natalie Wood in The Great Race (1965)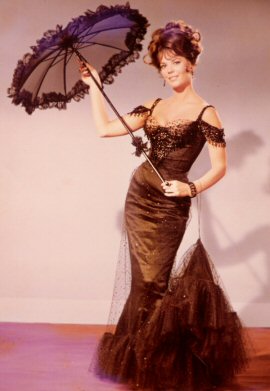 The sixties were perhaps Natalie's most productive decade, professionally if not personally. She gave some sterling performances in classic films that reflected the times in which they were made. West Side Story (1961) dealt with racial prejudice, Inside Daisy Clover (1966) with the harsh side of stardom behind the glamour and Bob & Carol & Ted & Alice (1969) had Natalie as a middle class housewife trying to cope with the new morality. Other notable films Natalie made in the sixties were the musical Gypsy (1962) as stripper Gypsy Rose Lee and The Great Race a comedy with Jack Lemmon and Tony Curtis (1965).
In 1969 Natalie married British producer Richard Gregson. Their short lived marriage produced one daughter, Natasha born in 1970 who is today an actress and the mirror image of her mother. Natalie divorced Gregson in 1971.
During her separation from Gregson, Natalie began to date Robert Wagner again. They re-discovered how much they loved and meant to each other. The Wagners re-married in 1972 aboard their yacht. Each having gone through analysis between their marriages, they approached this second marriage with new maturity and understanding. Natalie recalled: "When R.J. and I met ten years later, after our divorce, we were different people. It wasn't like going back to what we had before because we had both changed. We were still attracted to one another --there's always something about that first love. It was like getting to know a whole new person although somewhere in the back of your mind --you already knew them."
Natasha Gregson Wagner in 1998 ------- Natalie in the 1950s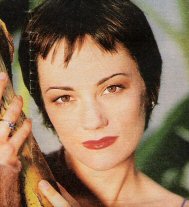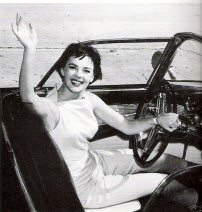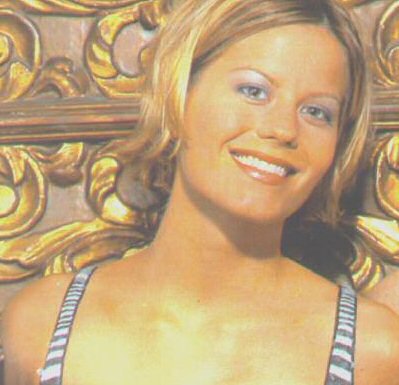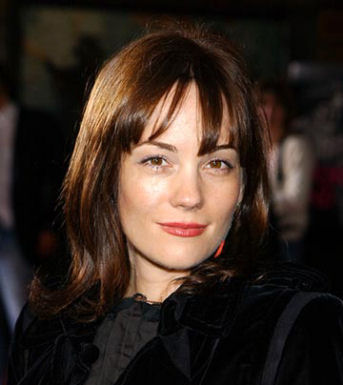 Natalie's beautiful daughters Courtney Wagner and Natasha Gregson Wagner
Natalie happily semi-retired to devote more time to her family, which had a new addition Courtney Brooke Wagner born in 1974. Concerning her screen hiatus and motherhood Natalie once said: "I love acting and I know I could have been working all the time. There was a period in my life where I just went from picture to picture. I really didn't have any other life. I felt rather empty and I guess I was. You must be able to give something back in life. I've discovered being a mother puts things in wonderful perspective, I'm so happy that I'm terrified! You can be working on a set where everything seems a matter of life and death, when suddenly you get a phone call that one of your kids has come down with a fever. All at once that becomes much more important than some movie where an actor is throwing a tantrum on the set."
Robert Wagner & Natalie Wood in the late 1970s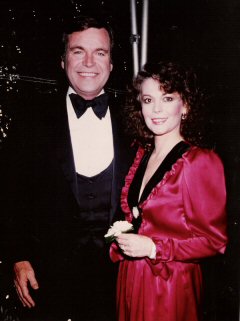 Natalie believed that people who drew a line of distinction between films and television were snobbish, that good work was good work no matter what medium it was performed for. In the later years of her career Natalie gave some exceptional performances for television in Cat on a Hot Tin Roof (1976) with husband Robert Wagner and Sir Laurence Oliver whom she greatly admired. Also, the mini series From Here to Eternity and the film The Cracker Factory both in 1979.
Natalie Wood would often say in interviews throughout her life, "I like being on the water or near the water but not in the water." In many of her films she was required to film scenes in the water despite her objections. Bette Davis came to her defense in The Star (1952) when director Stuart Heisler insisted Natalie to jump into the ocean and swim to a raft. He would not listen to Natalie's fears and Natalie recalled Bette Davis's threat to leave the film unless a double was used. In 1977 at the American Film Institute tribute to the actress, Natalie recalled "This was the only time I saw the famous Bette Davis temperament surface-- and it was not in her own behalf."
Ironically, it was an accidental drowning that brought premature death to Natalie Wood on Thanksgiving weekend 1981 at the age of forty three, off the coast of Santa Catalina Island while aboard the Wagner's yacht "The Splendour", in the dark waters she was terrified of since childhood
The following Wednesday afternoon at Westwood Memorial Park author Thomas Thompson reassured those gathered to say their last farewell to Natalie Wood Wagner, as the Russian string instruments reminiscent of her heritage played softly in the back ground, "What a fabulous life she had!" and what a great lady she was.
Copyright © Dina Di Mambro 1987-2015. This article may not be reprinted without permission.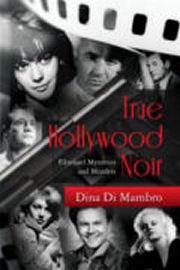 Buy True Hollywood Noir by Dina Di Mambro today!
A tantalizing mixture of classic Hollywood nostalgia and true crime, True Hollywood Noir: Filmland Mysteries and Murders , featuring 100 rare photographs, is suspenseful, entertaining, and eminently readable. While viewers were captivated by the drama playing out on the silver screen, the lives of the stars of these film noir classics were often far more exciting. The film plots of these stylish black and white masterpieces pale in comparison to what was going on behind the scenes. Uncover the true stories in a dozen different chapters featuring William Desmond Taylor, Thomas Ince, Jean Harlow, Thelma Todd, Joan Bennett, Lana Turner, George Reeves, Gig Young, Bob Crane, Natalie Wood, Robert Blake, and Mickey Cohen. Included in the cast of characters of the Thomas Ince chapter are William Randolph Hearst, Marion Davies, and Charlie Chaplin. And in the Mickey Cohen chapter, find never before told stories about Ben "Bugsy" Siegel, Virginia Hill, and a host of notorious underworld figures
Natalie Wood Films on DVD
Natalie Wood Books and Movie Art
Dina Di Mambro's Classic Hollywood Biographies
BOOK - TRUE HOLLYWOOD NOIR - Uncover true stories of Hollywood mysteries, scandals & murders in a dozen different chapters featuring William Desmond Taylor, Thomas Ince, Jean Harlow, Thelma Todd, Joan Bennett, Lana Turner, George Reeves, Gig Young, Bob Crane, Natalie Wood, Robert Blake, and Mickey Cohen. Included in the cast of characters of the Thomas Ince chapter are William Randolph Hearst, Marion Davies, and Charlie Chaplin. And in the Mickey Cohen chapter, find never before told stories about Ben "Bugsy" Siegel, Virginia Hill, and a host of notorious underworld figures
Author Dina Di Mambro has written extensively about classic movie stars of the golden age of Hollywood from the time she was a teenager. Her book Television Series Regulars of the Fifties and Sixties In Interview (McFarland Publishing. written under the name Dina-Marie Kulzer) consists of 22 in-depth interviews with stars of classic TV series and was originally published in 1992. In addition, she has worked as a research consultant and provided materials for biography specials about Carole Lombard for the A & E Network and E! Entertainment Television.
Any questions or comments? Please contact