Ralph Bellamy 1991 Interview
By Dina Di Mambro
The following interview, possibly Mr. Bellamy's last, was conducted on April 16, 1991. I was greatly honored to have had the opportunity to interview him. Ralph Bellamy passed away that same year on November 29th. This interview was originally published in my book Television Series Regulars of the Fifties and Sixties In Interview (McFarland Publishing, written under the name Dina-Marie Kulzer) in 1992.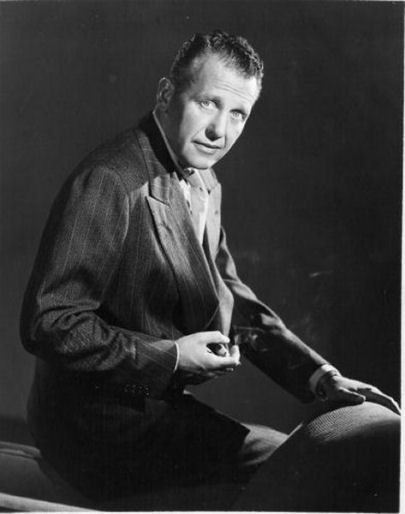 ,
Ralph Bellamy Circa 1950
Ralph Bellamy, the distinguished actor, with deep set blue eyes and a distinctive, resonant voice, played every type of role imaginable in his long and varied career. Well known for his light comedic roles in the screwball comedies of the thirties, audiences also remember his awe-inspiring performance as Franklin Delano Roosevelt in Sunrise At Campobello on Broadway and on film in 1960. Bellamy was also around at the very inception of television. He was the medium's first detective, one that didn't carry a gun, on the live action series Man Against Crime (1949-1954).
A young Ralph Bellamy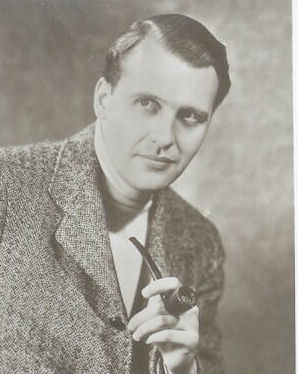 He began his illustrious career as a teenager "when the smoke hit the fan" (the title of his 1979 autobiography). "We weren't allowed to smoke on campus in high school, and I smoked. One dismal, fall, overcast, chilly Midwest day after lunch, I wanted a cigarette," elaborated Bellamy. "As president of the dramatic club, I had a key to the auditorium. So I went over to the auditorium, let myself in, and went down to the basement. And from a long corridor was coming a pleasant warm draft, which I followed, and at the end of it on the right hand side was a room with a window up at ground level. There was also an enormous wheel about ten feet in diameter, rotating very rapidly, encased in a protective open work metal device. I lit a cigarette and blew a puff in. I thought it would disappear which it didn't. It was pared away. It fascinated me. I blew another puff, and presently standing in the doorway was the professor who had caught me at everything I'd done during the last four years. This was just before graduation. And he said, 'What are you doing, Ralph?' And I said, 'Smoking a cigarette'. And he said, 'You know the rules. Will you go over and tell the principal or shall I?' And I said, 'I'll go over.' And I went up through the auditorium and it reeked of cigarette smoke. It was the ventilator that I was blowing the smoke into!" laughed Bellamy. 'The principal said, 'This is one too many, you better take your books and go home.' I was kicked out of school. My parents were, of course, upset about that.
Ralph Belllamy snoozing with a furry friend in an early film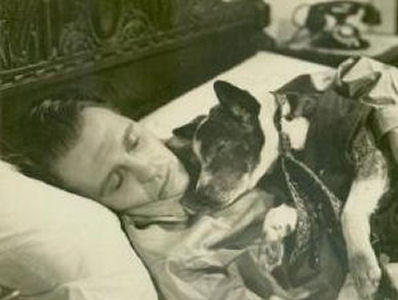 "A couple of weeks later, I got a job in a Chatauqua one night stand company, under a tent through the middle west," continued the Chicago-born actor. "That was my first job as an actor. From there I went to stock companies in Madison, Wisconsin, Fort Wayne and Evansville, Indiana... all through the middle west where you'd stay for 10, 12 or 15 weeks or more and do a different play every week. You're rehearsing one play all day long, while you're playing in another play at night. And then I went East, did some work in stock, and came back and had my own stock company in Des Moines, Iowa very successfully for two and a half years. I moved to Nashville, Tennessee and had a year there with my own stock company. And from there I went to New York," he laughed, "hoping to get a starring part on Broadway. The first thing that happened is that I went broke. I lived on a bowl of thick heavy soup and quarter loaf of rye bread each day. You could get that meal for 15 cents in those days-but it was sufficient.
'Then after awhile I got an offer from every picture company out here in Hollywood. I came out under contract for Joe Schenck. I never worked for him. He let me out for a couple of pictures. I then went under contract to Harry Cohn at Columbia, and that's a book in itself." Was the transition from stage to film difficult for Bellamy? "No, even though it was a different technique I seemed to fit into it. On the stage you are projecting. It's like meeting a new person. Each audience has a personality, they're different, there are no two alike," he explained. "In pictures, you just play the part. And it's a very natural sort of technique. You're not playing to anybody. You're just playing the part... portraying the character. I don't go along with Method acting. To me, that's not acting. Acting is portraying another character, not being it. Not that there aren't some wonderful method actors. To me the business of acting is going out... giving out not going within."

Bellamy held the distinction of being the first actor who was able to leave the lot at a decent hour, and was first actor to have a stand-in at Columbia. And under tyrannical studio head Harry Cohn's reign...this was not an easy feat. How did he do it? "Well, there were some four letter words connected with that," answered Bellamy with a smile. "He spoke pretty gruffly and used a lot of profanity. I discovered that if you gave back as good as he gave... he liked it, he smiled and you got your way. The first thing I got was a stand-in. I had to have a stand-in, we were working on so many different films at the same time. Stand-ins were something new in Hollywood. And I remember Harry saying over and over again, 'We've never had a stand-in on the Columbia lot and we never will have.' I said, 'Well, tear up my contract because I can't work without a stand-in.' All this took quite awhile in his office. He finally said, 'All right, you have a stand-in under one condition. Don't tell Jack Holt.' That was easy because I'd never even met Jack Holt. So I ended up with my stand-in.
Ralph Bellamy with James Cagney and Pat O'Brien in Boy Meets Girl (1938). The three men along with Spencer Tracy, Frank McHugh, Lynne Overman and Frank Morgan were great, lifelong friends who used to get together regularly for dinner and conversation. The group was known as the "Irish Mafia".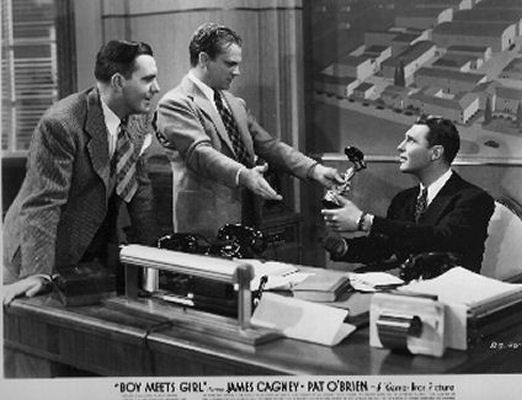 Ralph Bellamy as Ellery Queen (1940)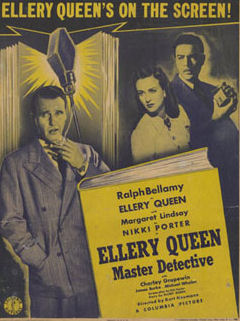 "In those days we worked at all hours," continued Bellamy about the primitive, pre-Screen Actors Guild conditions in Hollywood, ''there was no Screen Actors Guild, no rules, and you could be called in at any time and worked until any time, which we did. And I went up to see Harry again. I knew him pretty well by this time. I got on with him. And I told him that I would have to quit work at six o'clock. And he said, you... a little bit of profanity... (Bellamy, ever the gentleman, was watching his language with the lady author) New York actors coming out here, we've never had that on this lot and we never will have. So, again, I said, 'Then tear up the God damned contract!' After that I was able to quit at six o'clock unless it was night work. Again, I had to promise not to tell Jack Holt that I could leave at six o'clock," laughed Bellamy. "We used to work on more than one movie at a time. It was very confusing and slowed up all the shooting because you had to readjust in so many ways. To begin with, you had to wear different clothes. And then you had to take on the other character. And all of this took time.

"Working conditions, of course, were the main reason for starting up the Screen Actors Guild. We had many meetings at people's houses, a few of us, and it grew. The membership expanded, and finally we had enough members to make a declaration-which we did. That declaration was, 'Either give us proper working conditions or we strike.' And they did. Bellamy was one of the founders of the Screen Actors Guild, and was on its first board of directors. He was also the president of Actors Equity for four terms (1952-1964). "FDR and I each had four terms," laughed Bellamy. "Some member of Actors Equity came back stage one night and asked me if I would run for the presidency. And I said, 'I won't run, but if you want to put my name up there, that's all right.' And I won. I also won the next three terms."

Lobby Card of His Girl Friday (1940) with Ralph Bellamy, Cary Grant and Rosalind Russell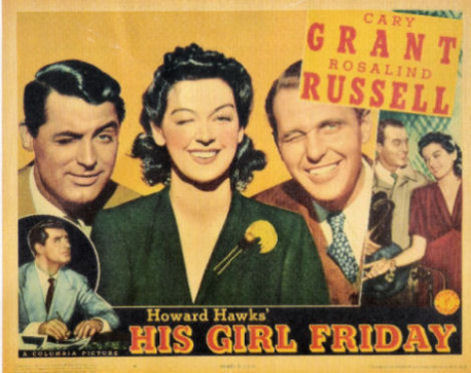 Bellamy remembered one other time Harry Cohn became enraged. It was during the shooting of His Girl Friday (1940) which also starred Cary Grant and Rosalind Russell. There was one point in the script when Cary Grant's character was asked to describe Bellamy's character. Grant ad-libbed the now famous line, "He looks like that fellow in pictures...you know...Ralph Bellamy.""I believe Cary came up with that one," said Bellamy. "I wasn't working that next day, but I went over to the studio to say hello, and ran into Harry Cohn on the back lot. Harry wanted me to go look at the previous days' rushes with him. We went up to his private room, and Cary's ad-lib came on screen. Harry screamed, 'What the hell are they doing on that set? Where did that ad-lib come from?' He stormed down to the set and was madder than hell at them for interfering with the script. The line ended up staying in the movie anyway."

Lobby Card and B & W Still from The Awful Truth with Bellamy, Cary Grant and Irene Dunne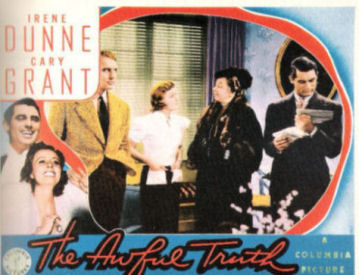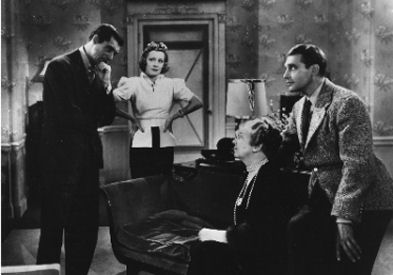 One of his best known films, which also starred Cary Grant, was The Awful Truth (1937). Bellamy says the actors didn't even have a script to work from while shooting the classic screwball comedy. "Our director, Leo McCarey, would arrive each morning with notes written on some kind of brown wrapping paper. That was our script. He'd instruct, 'Okay, Ralph you come over here, and I'll run the dog through here,' and so on. I tried like hell to get out of it the first day," explained Bellamy about the role which would garner him an Academy Award nomination. "Cary even offered to do another picture for no pay if Harry would let him out of it. Irene Dunne cried, begged and pleaded to get out of it. We almost shot the whole picture that way. We learned our lines day by day, and shot the picture in just six weeks."

Ralph Bellamy and Fred Astaire in Carefree (1938)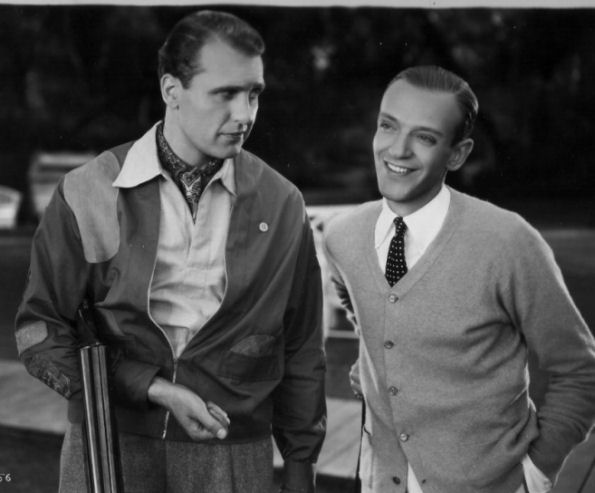 Bellamy almost always lost the girl to the leading man in films such as Carefree, The Awful Truth and His Girl Friday. When I reminded Bellamy that he did get the girl in Dance, Girl Dance (1940) with Maureen O'Hara, he said with a chuckle, "I've done 107 feature pictures, and so many of them I don't remember anything about."

One leading lady he did remember with a special fondness is Carole Lombard, his co-star in Fools for Scandal (1938) and Hands Across the Table (1935). "She was just like heaven. Carole was just the way she appeared on screen. She was open and funny... and had a beautiful sense of humor. She worked with you. She listened to you... and I'm talking about acting. She listened to you when you were speaking. It was a delight to work with her. Just a delight." During the mid-forties, Bellamy left Hollywood to go to New York where he worked on the stage, giving performances on Broadway in Tomorrow the World, State of The Union, Sunrise at Campobello and Detective Story. At the time, he was also shooting his weekly, detective television series Man Against Crime.

''Television in those days was interesting. It was a whole new field to begin with. We shot our show on kinescope, and of course, T.V. not having developed, there was no chain across the country. They mailed the kinescope to all the other towns that used it," reminisced Bellamy about the birth of television."We did Man Against Crime from Grand Central Station in New York. None of the studios had been prepared for television at the beginning. And they had been experimenting with T.V. upstairs at Grand Central Station. In addition to our series, they did The Ford Theater and I Remember Mama from Grand Central. There were just two studios, and they managed to bring off all three shows.

"Man Against Crime was the first private eye show, and we were copied several times. And I know one thing. .. I had a short vacation and my wife and I went to England. I wanted to buy a trench coat. And I said to the salesman, 'I wanted everything on that you can put on the coat... front, back, chest, shoulders....everything." And he said (Bellamy went into an English accent, imitating the salesman), 'You mean one Iyke Danny Kaye's?' And I said, 'Yes, I do.' I wore that trench coat as "Mike Barnett". And I think I was the first private eye in a trench coat. From that point on, most private eyes wore trench coats." Much in the same way that "James Bond" would later introduce himself as "Bond, James Bond", "Mike Barnett" used to always say, "Mike Barnett, with two T's", whenever he introduced himself on Man Against Crime.

Ralph Bellamy in the 1980s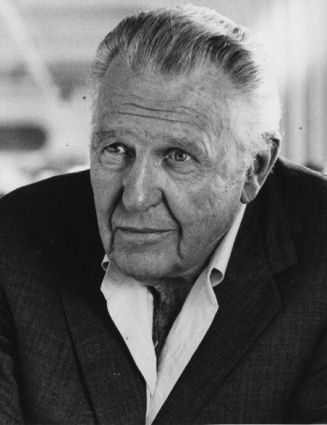 Believe it or not, in the days of early television, cigarettes used to be sent to hospitals as gifts for veterans. Bellamy remembered doing a live commercial for Camel Cigarettes on Man Against Crime. "The last thing I did on the television show each week was a blurb about next week's show. And then I said, 'Each week Man Against Crime is sponsored by Camel Cigarettes. Each week the makers of Camels send gift cigarettes to hospitalized servicemen, servicewomen and veterans. This week's Camels go to... And then I would frankly read a list of hospitals and while I was doing this one night, gratuitously, I took out a package of Camels from pocket and took out a cigarette, put it in my mouth and lit it, while I was talking. And when I got to the hospital part, I got a piece of tobacco stuck in my throat. Well you can imagine...there's nothing you can do about this except cough it up, which I wouldn't dare do with a Camel cigarette on the air. I had to keep on talking. I couldn't say it was a Chesterfield or a Lucky Strike because everyone in the audience saw me light up a Camel. So I kept on talking," he laughed, "and by the time I finished reading the list of hospitals, tears were running down my face. I still have a kinescope of that commercial."

Bellamy was starring in Detective Story on Broadway during the same time he was doing the Man Against Crime. After he shot the television show, he had to rush over to the theater to get there just in time for the curtain to go up for Detective Story. "When I finished shooting Man Against Crime on Friday nights, they always had the elevator doors open wide, ready for me to rush through. I ran downstairs, and got into a police car, which they would always have waiting for me. I pulled the siren, and we raced down to the stage door of the Hudson Theater. We crashed into a fire engine one night. Nobody was hurt. And I just had time to run upstairs and change clothes into the character for Detective Story, and go downstairs and onto the stage. I was on stage for the rest of the evening. So, that was quite a day for me!"

There was talk of possibly bringing the Man Against Crime back, according to Ralph Bellamy at the time of this interview in 1991. "I believe they ran the show under another title for awhile. I don't remember the title at the moment. It's being talked about for revival now-modernized. In its time, Man Against Crime was not a bad show. I don't know whether it will come off or not. I have nothing to do with it. But there is talk of bringing it back."

Ralph Bellamy as Franklin Delano Roosevelt in Sunrise at Campobello (1960)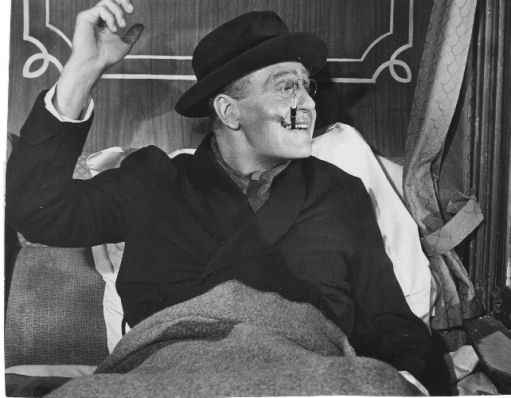 Among Bellamy's greatest artistic achievements was his role as Franklin Delano Roosevelt on Broadway and in film in Sunrise at Campobello (1960). Although he knew FDR, Bellamy also did extensive research for the role. He found a man with the exact same affliction as FDR's at the Institute for the Crippled and Disabled. He exercised and worked out with him everyday before rehearsal."I had a wheelchair and crutches at home and used them in order to feel at ease, natural in the role," explained Bellamy. "I also knew FDR personally, and over a period of time, I had been invited to the White House for dinners and cocktails. So I had met and managed to be close to him. I watched his mannerisms physical as well as speech. There was a danger of overdoing it, which I tried to avoid. But that was a terrific experience on the stage... a marvelous experience."

Ralph Bellamy and Greer Garson (as Eleanor Roosevelt) in Sunrise at Campobello (1960)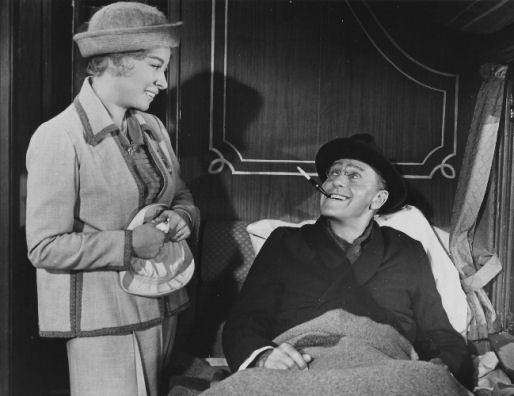 Bellamy won both the New York Drama Critics Award and the Tony Award for his gripping performance in Sunrise At Campobello. He said, that he believed he was the first person to give a long acceptance speech for an award."When I went up to get the Tony Award, I said, 'I want to publicly thank my wife for putting up with me through this long period of preparation and running all round the house in a wheelchair and crutches.' That started this business of everybody thanking everybody, like their families and friends," he chuckled. In 1983, Bellamy reprised the role of FDR in the television mini-series The Winds of War.
Ralph Bellamy and Mia Farrow in Rosemary's Baby (1968)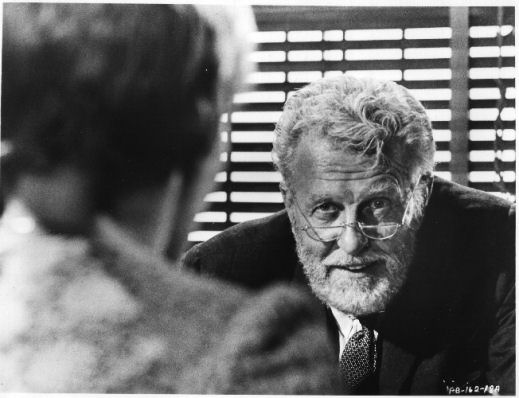 Some of his later roles, which are best known to film audiences, include a devil worshiper in the guise of a kind doctor, in Rosemary's Baby (1968), and as the rather mean-spirited rich man who tries to take advantage of Eddie Murphy in Trading Places. Don Ameche played Bellamy's spoiled brother in Trading Places (1983). The two had great comedic chemistry together-even as unlikable characters. His last role was in Pretty Woman (1990) with Julia Roberts.

Bellamy with Don Ameche and Eddie Murphy in Trading Places (1983)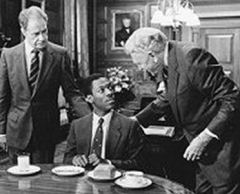 Bellamy, at the time of this interview, still longed for that one stand-out role. Even though he had many exceptional parts over the years, he was still looking forward to the next role. He did, however, have one professional regret. "I turned down Chinatown," admitted Bellamy. "The script the director sent me was from page one...incest. And I'm no prig, I'm no prude but it just did not seem worthwhile doing a role that would be denounced even if it were well done. I didn't want any part of it. John Huston finally played the part and received an Academy Award for it," he added with a laugh.

Ralph Bellamy with Don Ameche in Trading Places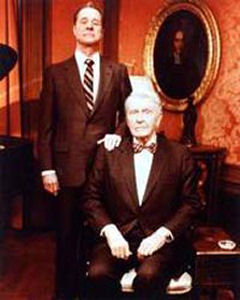 His most moving experience, professionally, was when he received his honorary Oscar in 1987, an award long overdue. "It was a remarkable experience. When I walked out and that entire audience stood up, I choked up. I had to wait a second to pull myself together. To see an entire, enormous audience stand up for you is something that's just unexplainable. It was unexpected and very much appreciated." And very much appreciated, respected and admired is exactly what Ralph Bellamy remains to audiences who will continue to enjoy his performances through the magic of film.
From "Television Series Regulars of the Fifties & Sixties in Interview"
McFarland Publishers & Company Inc., Publishers
© 1992 Dina-Marie Kulzer
Reprinted with permission of the author.
Ralph Bellamy Films on DVD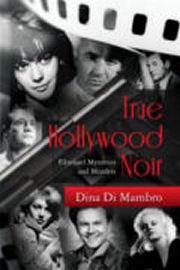 Buy True Hollywood Noir by Dina Di Mambro today!
A tantalizing mixture of classic Hollywood nostalgia and true crime, True Hollywood Noir: Filmland Mysteries and Murders , featuring 100 rare photographs, is suspenseful, entertaining, and eminently readable. While viewers were captivated by the drama playing out on the silver screen, the lives of the stars of these film noir classics were often far more exciting. The film plots of these stylish black and white masterpieces pale in comparison to what was going on behind the scenes. Uncover the true stories in a dozen different chapters featuring William Desmond Taylor, Thomas Ince, Jean Harlow, Thelma Todd, Joan Bennett, Lana Turner, George Reeves, Gig Young, Bob Crane, Natalie Wood, Robert Blake, and Mickey Cohen. Included in the cast of characters of the Thomas Ince chapter are William Randolph Hearst, Marion Davies, and Charlie Chaplin. And in the Mickey Cohen chapter, find never before told stories about Ben "Bugsy" Siegel, Virginia Hill, and a host of notorious underworld figures
Dina Di Mambro's Classic Hollywood Biographies
Classic Film Actress Vintage Movie Magazine Gallery - 1920s thru 1950s Covers
BOOK - TRUE HOLLYWOOD NOIR - Uncover true stories of Hollywood mysteries, scandals & murders in a dozen different chapters featuring William Desmond Taylor, Thomas Ince, Jean Harlow, Thelma Todd, Joan Bennett, Lana Turner, George Reeves, Gig Young, Bob Crane, Natalie Wood, Robert Blake, and Mickey Cohen. Included in the cast of characters of the Thomas Ince chapter are William Randolph Hearst, Marion Davies, and Charlie Chaplin. And in the Mickey Cohen chapter, find never before told stories about Ben "Bugsy" Siegel, Virginia Hill, and a host of notorious underworld figures
Author Dina Di Mambro has written extensively about classic movie stars of the golden age of Hollywood from the time she was a teenager. Her book Television Series Regulars of the Fifties and Sixties In Interview (McFarland Publishing, written under the name Dina-Marie Kulzer) consists of 22 in-depth interviews with stars of classic TV series and was originally published in 1992. In addition, she has worked as a research consultant and provided materials for biography specials about Carole Lombard for the A & E Network and E! Entertainment Television.
Any questions or comments? Please contact

Ralph Bellamy sites at Celebrity Link